With a certified used Subaru Outback, you take home a mid-size wagon with a roomy cabin, powerful performance, and modern conveniences. The Outback comes standard with all-wheel drive, giving you impressive traction over slick surfaces. Its raised suspension gives you excellent ground clearance for a bit of light-duty off-roading. Inside, the Outback is spacious and stylish. Convenience features like an iPod interface help keep you informed, entertained, and connected.
Used Subaru Outback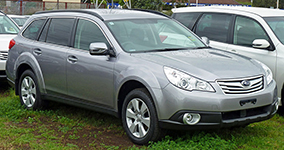 The modern Subaru Outback is a five-passenger wagon that comes in a variety of trim models, all of which are well equipped with comfort and convenience features. This makes them perfect used family vehicles. Trim models are divided into 2.5i and 3.6R categories, each of which offers its own engine. The 2.5i models derive their power from a 2.5-liter horizontally opposed four-cylinder engine that produces 170 horsepower and 170 pound-feet of torque. This engine can be paired with either a six-speed manual transmission or a continuously variable transmission. The 3.6R Outbacks offer a 3.6-liter six-cylinder boxer engine, boosting output to 256 horsepower and 247 pound-feet of torque.
Even the base models come with an impressive lineup of comfort and convenience features. Connect devices via an auxiliary audio jack. Find the perfect position behind the wheel with a height-adjustable driver seat and tilt-and-telescoping steering wheel. Higher trims created a luxury atmosphere with niceties like a Harmon Kardon sound system and heated front seats.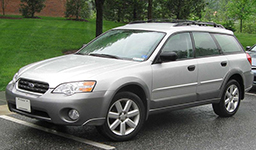 Used Subaru Outback wagons came in a variety of trims, all of which were divided into 2.5, XT, and 3.0 R models. The 2.5i Outbacks ran on a 2.5-liter horizontally opposed four-cylinder engine that created 170 horses. The XT models boosted output with a 243-horsepower 2.5-liter turbocharged engine. With the 3.0 R models, you could enhance performance with a horizontally opposed six-cylinder engine that generated 245 horses. All models came with all-wheel drive for excellent traction over slippery roads. On the road, these models offered impressive handling and a confident ride. In addition to power, these Outback models came with an abundance of comfort and convenience features.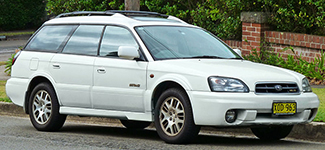 These used Subaru Outbacks were available in sedan or wagon form. The second-generation Outback derived its power from a 2.5-liter engine that produced 165 horses. After 2001, shoppers could choose the L.L. Bean Edition and VDC models, which increased power with a 212-horsepower six-cylinder engine. Standard all-wheel drive optimized performance over wet roads.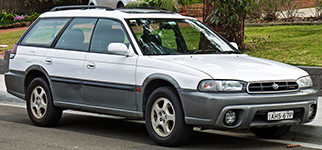 The first Subaru Outback arrived as a trim package on the Subaru Legacy wagon. One year later, it offered a stylish SUV-like design and raised suspension. Its 2.5-liter engine produced 155 horsepower for a swift ride. A few years later, the luxurious Limited trim model arrived with its dual sunroofs and impressive powertrain. This generation remains viable for used buyers, outdoing other models of this era in terms of performance and dependability.