The Subaru Impreza is a compact car that delivers excellent performance, a spacious cabin, and plenty of modern convenience features. Its powertrain sets it apart from competitors. Standard all-wheel drive gives you enhanced traction over wet or icy roads. To become certified, an Impreza must first pass a 152-point inspection. The price of a certified model also includes helpful features like on-demand roadside assistance and a seven-year/100,000-mile Powertrain plan.
Used Subaru Impreza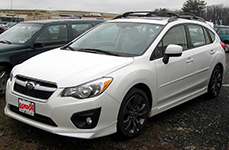 The modern used Subaru Impreza is roomy and fuel-efficient. These four-door models come in sedan and hatchback body styles. Choose between 2.0i, 2.0i Premium, and 2.0i Limited trim models. The hatchback also comes in 2.0i Sport Premium and 2.0i Sport Limited editions. These Impreza models derive their power from a 2.0-liter horizontally opposed four-cylinder engine that makes 148 horsepower and 145 pound-feet of torque, ensuring speedy performance. A five-speed manual transmission gives you excellent control over your ride. Choose the continuously variable transmission for a smooth, fuel-efficient performance. The high-performance WRX and WRX STI models carry over unchanged from the third generation.
On the road, the used Subaru Impreza excels. You'll love its responsive ride and composed handling. Strong breaks give you plenty of confidence. Standard all-wheel drive maximizes performance when the weather gets stormy. The WRX and WRX STI models are especially fun to drive, thanks to the extra kick you get from their turbocharged engines.
Inside, the cabin is stocked with modern convenience features. Bluetooth phone and audio connectivity mean you can make hands-free calls. Automatic headlights know when they're needed. Niceties like heated seats and leather upholstery create a luxurious ride.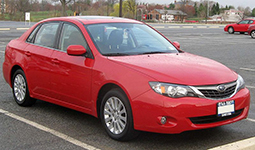 The third-generation Subaru Imprezas were offered in sedan and hatchback form. Four trims were available: 2.5i, Outback Sport, WRX, and WRX STI. The 2.5i and Outback Sport both used a horizontally opposed 2.5-liter four-cylinder engine, generating 170 horses for swift acceleration. The WRX upped the ante with a turbocharged 2.5-liter engine. It produced either 224 or 265 horses, depending on model year. The STI is a great pick for driving enthusiasts. Its engine delivered an outstanding 305 horsepower.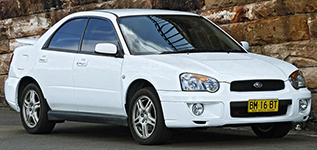 These five-passenger models also came in sedan or wagon body styles. Shoppers could choose from a range of trim models: the 2.5 RS sedan, WRX sedan and wagon, 2.5 TS Sport Wagon, and Outback Sport wagon. All but the WRX models came with a 2.5-liter engine that made 165 horses for powerful acceleration. The performance-based WRX models offered a turbocharged 2.0-liter engine that delivered 227 horses.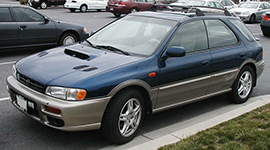 When the Subaru Impreza made its debut, it was available in sedan or wagon body styles. Under the hood, a 1.8-liter flat-4 engine produced 110 horsepower. All-wheel drive was optional to increase traction over slick surfaces. As the years went on, this generation did nothing but improve. In 1995, a two-door coupe model arrived. Under the hood, a 2.2-liter engine boosted horsepower to 135. In 1998, the 2.5 RS model came out. Its 2.5-liter engine produced 165 horses for a swift, smooth ride.