The Jeep Wrangler is an iconic American off-road SUV that literally leaves competitors in the dirt with its rugged capabilities. It's also known for its versatility, with a removable soft – or hard – top, uniquely removable doors, and a rinse-out interior. For adventurous drivers, there's no better option than the Jeep Wrangler. Inside, used Jeep Wrangler models can be as luxurious as you wish, with posh features like leather upholstery. If you're in the market for a used Jeep Wrangler, check out our buying guide.
Used Jeep Wrangler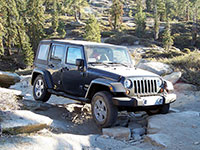 Jeep has continued to improve the Wrangler over the years, making this generation of used Jeep Wranglers the best yet. Certainly, when it comes to off-road capabilities, there's no competitor that can match the Wrangler. These models also bring new levels of on-road refinement and passenger comfort. Inside, the third-generation used Wrangler introduces a long list of tech features designed to suit modern drivers.
When the third generation appeared, it came with an excellent V6 engine designed to maximize performance. Now Wrangler drivers can travel over rugged terrain with plenty of power at their command. Additional safety features mean that the third-generation Wrangler is big on passenger protection. The new navigation system guides you around town without a hitch. Antilock brakes deliver massive stopping power. Traction and stability control improve driver authority in rough weather.
Inside, the Wrangler cabin is spacious and supportive. As you browse used models, you'll find interior options that range from adventure-ready to truly luxurious. If you plan to travel over mountains and mud, you'll appreciate that your Wrangler cabin can be hosed down and easily cleaned out. But if you prefer to pair your outdoor adventure with the finer things, you can shop for features like leather upholstery and heated front seats.
These used Jeep Wranglers have seen some changes over the years. In 2007, Jeep introduced the four-door Wrangler Unlimited, which increased backseat space and overall comfort levels. Beginning in 2009, the Wrangler featured new safety features, like hill start assist, which keeps you from rolling backward at stops. In 2012, the new Wrangler engine became a V6 that generates 285 horsepower and a smooth, composed ride.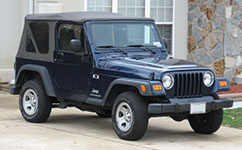 When the Jeep Wrangler appeared for its second generation, it offered even greater off-road performance. Its new Quadra-coil suspension created a sense of refinement, on both the pavement and the trail. The second-generation Wrangler also introduced a range of modern safety features, including dual airbags and antilock brakes.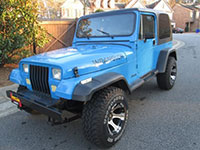 The original Jeep Wrangler famously descends from the Jeeps that transported American soldiers on the ground during World War II. Like those models, the new Jeep Wrangler came with a fold-flat windshield and extremely rugged capabilities. Thanks to its superlative four-wheel-drive performance, it soon became popular with drivers who craved off-road adventure.