The Ford F-250 is a heavy-duty pickup truck designed to transport massive cargo loads. In addition to power, it also supplies a comfortable, modern cabin stocked with high-tech convenience features. Contemporary safety equipment enhances passenger protection and driver peace of mind. Choose from an impressive variety of configurations for the model that best suits your needs. Come in and test drive a Ford truck today!
Used Ford F-250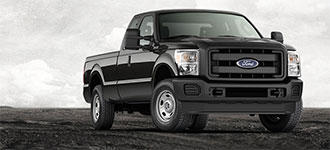 The modern used Ford F-250 heavy-duty truck supplies plenty of options for finicky buyers. The second-generation F-250 is available as five well-stocked trim models: the base XL, mid-grade XLT, upscale Lariat, handsome King Ranch, and uptown Platinum. Beginning in 2011, shoppers could choose from two powerful engines. The 6.2-liter gasoline V8 produces 385 horses and 405 pound-feet of torque for impressive performance. To tow and haul real heavyweight loads, check out the turbodiesel V8 engine. Its 385 horses and 405 pound-feet of torque help the F-250 tow its maximum loads.
Inside, cabins are luxurious and refined – especially the upper trim models. Seating is spacious and supportive. Niceties like leather upholstery and a heated steering wheel take passenger comfort to the next level. In 2009, the Sync system appeared, offering handy voice controls for infotainment options.
Before 2011, the base engine was a 5.4-liter V8 engine that generated 300 horses and 365 pound-feet of torque. For optimal performance, the 6.4-liter PowerStroke turbodiesel V8 engine was available. It created the 350 horses and 650 pound-feet of torque necessary to tow and haul truly massive loads.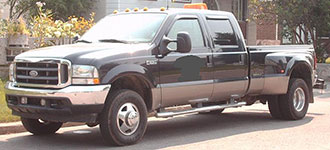 When the F-250 first appeared, shoppers could choose from a range of well-stocked trims: the base XL, mid-range XLT, and upscale Lariat. Initially, there were three engine options: the base 5.4-liter V8, a powerful 6.8-liter V10, and the 7.3-liter PowerStroke turbodiesel V8. Shoppers could choose between a five-speed manual and a four-speed automatic transmission. No matter which powertrain you picked, you could count on impressive performance – even with thousands of pounds in tow. The used Ford F-250's firm suspension helped create responsive handling and a confident ride.
Throughout the first generation, these models saw many significant changes. In 2001, the PowerStroke engine boosted output for greater on-road performance. In 2003, a 6.0-liter PowerStroke engine replaced its turbodiesel predecessor. In 2005, the F-250 offered performance upgrades, with a new, smooth-shifting five-speed automatic transmission and enhanced front suspension. It also provided increased towing and hauling capabilities. Come in and test drive a used Ford F-250 today!