The Ford F-150 is a full-size pickup truck that offers serious appeal with its awesome towing and hauling capabilities, modern safety gear, and smooth, capable ride. It's long been America's bestselling vehicle, and, if the modern generation is any indication, that trend will continue into the future. For buyers, the used Ford F-150 has a lot to offer, including impressive passenger comfort and versatility. Multiple configurations ensure that you get the cabin and bed size that suits your unique requirements.
Used Ford F-150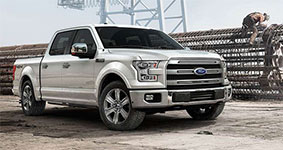 The modern used Ford F-150 is one of the most innovative and capable vehicles on the road today. Its all-new aluminum panels make it lighter, thereby improving fuel economy, towing and hauling capabilities, and overall handling. In 2016, the F-150 introduced a Pro Trailer Backup Assist feature, making it easy to guide a trailer in reverse. The all-new Sync 3 infotainment system, too, serves as a constant connection to the outside world, offering features like hands-free calling and music streaming.
When it comes to power and performance, you can't go wrong with the contemporary F-150. For max power, look for the 3.5-liter EcoBoost V6, which gives you 365 horsepower, 420 pound-feet of torque, and the ability to tow up to 12,200 pounds.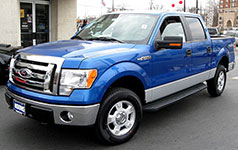 For used buyers, this modern Ford F-150 generation offers serious appeal. Nine trims were available throughout this generation, offering everything from a clean-cut, dependable workhorse to a luxurious family hauler. The off-road-ready Raptor model delivered everything you needed to hit the trail in earnest.
Shoppers could choose from three cabin sizes and three bed lengths. Four-wheel drive was always available to enhance traction and overall performance off-road. The twelfth-generation F-150 also offered an impressive engine lineup. Shoppers could opt for the twin-turbocharged EcoBoost V6 engine that generated 365 horses and a smooth, swift ride. The 6.2-liter V8 engine was also available, boosting output to 411 horses.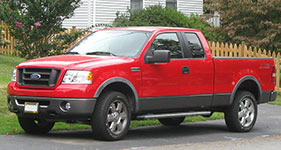 The eleventh-generation Ford F-150 offered shoppers a range of configurations and luxurious trim models. The bestselling XLT combined excellent towing and hauling power with modern comfort and convenience features. Drivers who needed top-notch power could choose the 5.4-liter V8 engine, which generated 300 horsepower. The special-edition Harley-Davidson models offered a supercharged V8 that boosted output to 450 horses.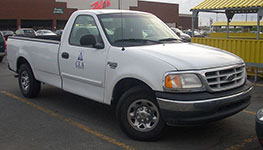 These used Ford F-150 trucks were synonymous with the word dependable. Ford made a number of improvements that focused on powertrain options, cab styles, and modern luxury. Their smooth exterior styling turned heads on the highway. Shoppers could choose between V6 and V8 power.
The ninth-generation used Ford F-150 put utility above all else, making it a great pick for drivers with a need to move heavy loads. Shoppers could choose between two body styles. Those who craved interior luxury could choose the XLT Lariat or Eddie Bauer models.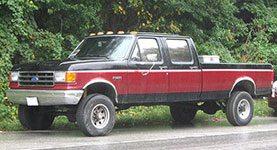 With the same body style as the previous generation, these Ford F-150 models further improved aerodynamics with a new front clip. Inside, the F-150 cabin was completely redesigned to offer greater passenger comfort and support.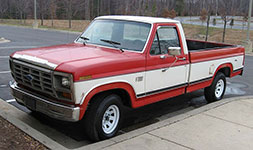 Ford retooled the seventh-generation Ford F-150 with a new chassis and larger body, giving it what amounted to its first total redesign since 1965. The new exterior styling offered improved aerodynamics.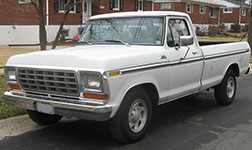 These pickup trucks were more refined than ever before. Modernizations, including front disc brakes and a gas tank located outside of the cab, make the sixth-gen F-Series more familiar to today's shoppers. This was also the first time that Ford wheeled out the SuperCab, which provided backseat space.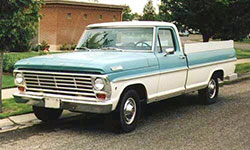 The fifth-generation F-Series reused the fourth-generation platform, which provided ample passenger space. Here shoppers could choose from an expanded engine platform. These models also introduced more luxurious models, appealing to buyers with a taste for the finer things.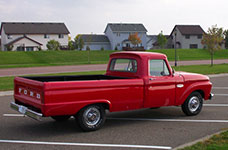 These trunks were quite different from previous models. A redesign made them longer and lower than before. Thanks to increased dimensions, passengers had more room to spread out. Shoppers could also choose from a range of new engine options.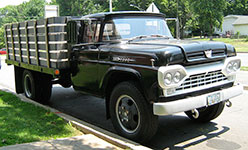 When the third-generation F-Series appeared, it was redesigned to appeal to modern buyers. The cab-over F-Series model was discontinued, replaced by the C-Series.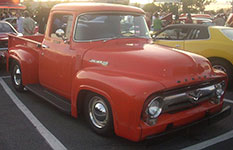 These models were bigger and more powerful. They also introduced the modern F-Series naming convention, with the half-ton F-1 model becoming the F-100. The F-2 and F-3 were rechristened as the F-250, and so on.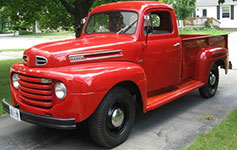 The original F-Series pickup truck was available in eight different weight ratings. Shoppers could choose the cab-over engine, conventional truck, or panel truck, among other renditions. There was even a school bus chassis body style.