The bestselling Ford Escape is a small crossover that provides four-wheel drive, interior luxury, and a smooth, refined performance. The Escape combines the maneuverability of crossover with the utility of an old-school SUV, appealing to a wide range of shoppers. Commuters and urbanites will love the Escape's comfortable cabin and economic fuel mileage. Nature lovers will appreciate the Escape's light off-roading and towing capabilities.
Used Ford Escape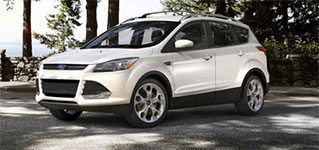 The modern used Ford Escape is the best yet. It's a best-in-class pick in the competitive crossover segment. All models are equipped with an impressive array of comfort and convenience features. The rearview camera makes backing up a simple task. Leather upholstery creates an air of interior luxury. Heated front seats keep you cozy during the winter months. The navigation system guides you through unfamiliar territory.
As you shop used Ford Escape crossovers, you'll notice three different Escape engines. The 2.5-liter four-cylinder engine offers 168 horses for swift acceleration. If you crave greater output, look for the turbocharged, 1.6-liter four-cylinder, which cranks output up to 178 horses. Finally, the turbocharged 2.0-liter delivers the Escape's most impressive performance, with 240 horses, even while maximizing fuel economy and saving you money at the pump.
On the road, all third-generation Ford Escape models provide sharp steering and excellent handling. You'll find it's easy to cruise down winding roads or around tight city grids. Indeed, the Ford Escape's versatile performance makes it a great all-around vehicle for just about any kind of buyer.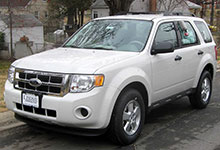 Inside, this used Ford Escape was stylish and comfortable. All passengers enjoyed enhanced support and overall ergonomics. Upscale features – like leather upholstery and heated front seats – maximized passengers' on-road experience. A range of high-tech conveniences made life easier. The navigation system took drivers exactly where they needed to be. The automated parallel-parking system helped guide the Escape into the last space on the block.
Under the hood, the used Ford Escape derived its power from either a 153-horsepower four-cylinder engine or 200-horsepower V6 engine. In 2009, powertrain upgrades improved output for both engines. The four-cylinder engine generated 171 horses and the V6 made 240 horses. Most of these models came with a six-speed automatic transmission for a smooth, refined performance. Shoppers had the option of a five-speed manual for total control over their ride.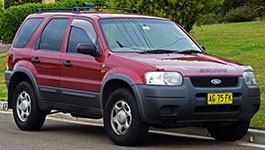 The original Ford Escape set the tone for later models with its versatile performance and roomy, comfortable cabin. Shoppers could choose from a range of well-equipped trim models for the amount of luxury they preferred. At the outset, the Escape's 2.0-liter four-cylinder engine churned out 130 horsepower. In 2005, it was reconfigured to boost output to 153 horses. For optimal power, look for the V6 engine, which was rated for 200 horses.