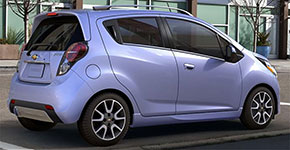 When it comes to interior comfort, the modern used Chevrolet Spark has plenty to offer. Its four-door design gives all passengers easy access to plush, roomy seating. If you want to take comfort to the next level, look for used models with leatherette upholstery. The Spark also keeps you cozy throughout the winter months, with heated seating in addition to the regular central system. All in all, the Spark puts passenger comfort high on its list of priorities.
Choose from three well-equipped trim models – the LS, 1LT, and 2LT – for the level of luxury you crave. Inside, the Sonic boasts features like the 7-inch touchscreen interface, which makes it easy to access MyLink infotainment apps. Connect your smartphone to the system via Bluetooth phone and audio connectivity. From there, you can make hands-free calls and stream your music collection through the central infotainment system. As you can see, the Sonic cabin offers major appeal for gadget-loving drivers.
Because used Chevrolet Spark models are relatively new, you can count on cutting-edge safety equipment. The OnStar telematics system offers major protection, solving unexpected issues with features like stolen vehicle tracking and on-demand roadside assistance. Newer versions of this system also come with a Wi-Fi hotspot, providing a strong connection to the Internet wherever you go.
Beneath the hood, the modern used Chevrolet Spark balances compliant performance with money saving fuel economy. The 1.2-liter four-cylinder engine provides a sporty ride, with 84 horsepower and 83 pound-feet of torque. It's paired with a five-speed manual transmission, so you always feel like you're in complete control of your ride. Alternatively, you can look for models with the continuously variable transmission, which provides a smooth, comfortable trip. No matter which powertrain you prefer, the Sonic still earns nearly 40 mpg on the highway. The Spark is a great pick for drivers with fuel economy on the brain.
Used buyers will find a few differences between model years. When the Spark debuted in 2013, it offered a four-speed conventional automatic transmission that was tuned for maximum fuel economy. In 2014, the automatic was replaced with a continuously variable transmission (CVT) for enhanced performance and fuel economy. Still, fuel-conscious drivers will find that the manual transmission offers the best EPA ratings overall.