Compact SUVs are the answer for drivers who need extra space and ground clearance but refuse to live the minivan lifestyle and aren't ready for full size truck or SUV. Compact SUVs are a compromise–but they're a great one that delivers the space and design you want. Two of the top models in this class are the 2017 Hyundai Tucson and the Honda CR-V. Which one will give you all of the things you want?
2017 Hyundai Tucson vs Honda CR-V
Convenience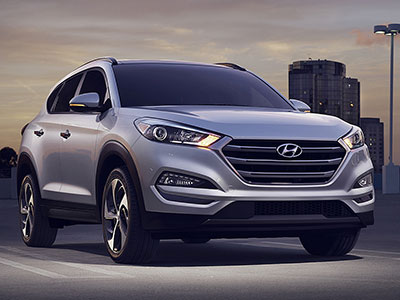 Convenience is important–your car is supposed to make your life easier. The CR-V delivers with features that give you options. The HondaLink app allows you to turn on and off your car remotely so that you can cool it down on those hot summer days before you get there. You can use it for scheduling maintenance and get reports on how your vehicle is doing. You can connect your smart phone to the touch screen wirelessly with both Apple Car Play and Android Auto. The built-in HomeLink also allows you to connect to your garage door without having an extra external remote.
The Hyundai Tucson sports these same features as well, except for HondaLink which is replaced with MyHyundai. The Tucson also has a Smart Lift Gate for the trunk. Instead of opening it by hand, by kicking your foot under the car or by pushing a button, the smart lift gate automatically opens when the key is sensed standing behind the car within three feet for more than three seconds. This feature comes in handy when your hands are full. With this added feature and the fact that the rear seats recline, the Tucson comes out ahead in convenience.
Interior Space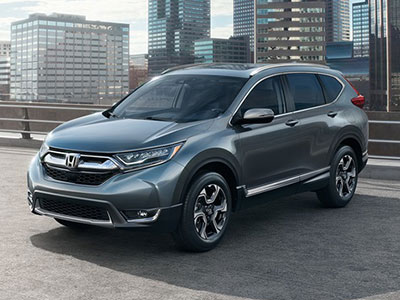 If you just look at seating, the Tucson and the CR-V are equal. They both seat five with two in the front and three in the back. The Tucson has a good amount of space. It has 41.5 inches of front seat legroom and 38.2 inches of back seat legroom. In cargo space, the Tucson has 31 cubic feet of cargo space, which can be extended to 61.9 cubic feet when the second row is folded down.
The CR-V has a little bit more interior space than the Tucson. The front row leg room is barely smaller by less than a quarter of an inch. But the back adds a couple of inches, . with 40.4 inches of legroom. Cargo space is really where the CR-V pulls away in this category. The CR-V has 39.2 cubic feet of storage that extends to 75.8 cubic feet with the seats folded down. So if you are a tall family, that's something to consider.
Safety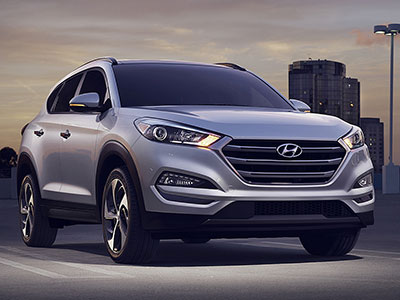 When it comes to safety, crash ratings are going to be good no matter what vehicle you choose. Nowadays, it all comes down to extras. The Honda CR-V has both a Collision Mitigation and Road Departure Mitigation system to help you stay on the road and to keep you from crashing. These systems will sense an upcoming accident and help prime the brakes and begin to apply them if you fail to do so. On long highway trips, lane departure mitigation will also keep you in your lane when you're drifting.
The Tucson also has an automatic braking system that will engage if there's an imminent collision, including pedestrian detection. The Lane Keep technology in the CR-V is just a lane departure warning in the Tucson, but is makes up for it with an extra feature-rear cross traffic alert. This feature is invaluable when trying to back out of a crowded parking lot. It helps you avoid pulling out in front of someone flying down the aisle when other cars block your line of sight.
Warranty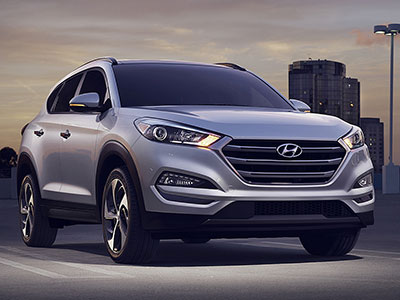 A warranty provides a peace of mind. You know that if something goes wrong, things will be taken care of. A warranty also gives you an indication of when things might start to happen. After all, the manufacturer doesn't want to spend money fixing your stuff if they don't have to. The Honda comes with a respectable 3 year/36,000 mile limited new car warranty and a 5 year/60,000 mile powertrain warranty. This warranty is fairly standard.
The Hyundai Tucson, though, comes with America's best warranty.The Hyundai warranty is considered the best because it is the longest manufacturer warranty out there. You'll get a 5 year/60,000 limited new car warranty and a 10 year/100,000 mile powertrain warranty. That's coming close to double the amount of the standard warranty by most other manufacturers. With a guarantee like that, you can drive away with that peace of mind you need.
Learn More about the Hyundai Tucson
In this side-by-side comparison, priorities matter. If you're an NBA star, the CR-V would be a better choice because of the leg room. If you are looking for a compact SUV that has extra safety features, a little more convenience, and a stellar warranty, then the 2017 Hyundai Tucson is the obvious choice.