The used Jeep Grand Cherokee is a mid-size SUV that blends rugged utility with family-friendly comfort and luxury features. The Grand Cherokee is an upscale people-hauler during the week. On weekends, it becomes an excellent choice for your next off-road adventure or camping trip. Inside, you'll find modern comforts, like leather upholstery and all the latest tech gear. If you're looking for smooth acceleration and composed handling, put the used Jeep Grand Cherokee at the top of your list.
Used Jeep Grand Cherokee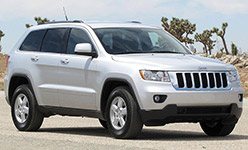 Years: 2011-Current As you shop for a used Jeep Grand Cherokee, look for fourth-generation models. They include a number of improvements, like enhanced on-road refinement and fuel economy. In addition to saving money at the pump, the fourth-generation Grand Cherokee lets you tow up to 7,400 pounds. Like those that came before it, the latest Grand Cherokee delivers solid performance over rugged trails, thanks to its excellent four-wheel-drive options.
Inside, the used Jeep Grand Cherokee has something for everyone. If you crave modern luxury, look for leather upholstery and heated front seats. The Uconnect infotainment system is among the best out there, giving you impressive access to smartphone integration features like phone and text messages. Use the system's voice controls to stay connected without looking away from traffic.
As you shop these models, you'll notice that the fourth generation has seen a few changes over the years. In 2013, Jeep introduced the Trailhawk edition, the ultimate off-road-ready model, which offers mass appeal for trailblazers and outdoor-adventure types. Beginning in 2014, shoppers could select the V6 diesel engine to balance supreme power with impressive fuel economy. That same year, a new eight-speed automatic transmission provided quick shifts and a smooth ride. In 2015, the Grand Cherokee cabin was quieter than ever, thanks to new noise-cancelling features. You'll also find a range of new features in 2016 models, including a gasoline V6 engine with start-stop technology.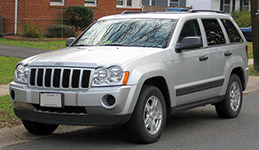 When the Jeep Grand Cherokee returned for its third generation, it introduced a wealth of modern features. Among these were several new four-wheel-drive systems, which only increased the Grand Cherokee reputation for rugged off-road power. The independent front suspension improved overall handling and ride smoothness. In 2009, Grand Cherokee shoppers could choose the new 5.7-liter V8, which balanced ample power with modern fuel economy.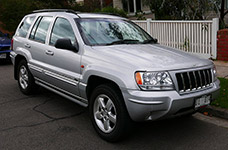 These new models delivered enhanced legroom and a larger cargo hold, making them even more family-friendly than before. New engine options, including a powerful V8, took off-road performance to the next level. Jeep also introduced the Quadra-Drive system, which sent power to a single wheel if the other three lost their grip.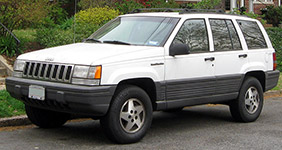 The original Jeep Grand Cherokee arrived just in time to answer consumer demand for a luxurious off-road ride. It introduced features that other vehicles in this segment lacked, including a driver's side airbag and four-wheel antilock brakes. Cabin options ranged from comfortable to completely posh, with leather upholstery and an upgraded sound system.