The Chevrolet Cruze made its U.S. debut in 2011 when it replaced the Cobalt as Chevrolet's compact car. The Chevrolet Cruze is a compact sedan that has precise handling, good fuel economy including offering a diesel version, and a vast array of features typically reserved for luxury cars such as blind-spot monitoring and a rearview camera.
Used Chevrolet Cruze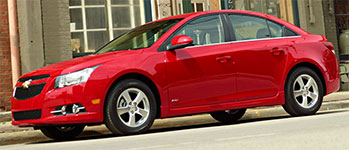 The Chevy Cruze has vastly improved safety features compared to its predecessor the Cobalt. It comes with 4-wheel anti-lock brakes, StabiliTrak Electronic Stability Control System, OnStar, and 10 airbags. The Cruze also won the NHTSA with a 5-Star Overall Vehicle Score.
With the inception of the Cruze also came other technological and comfort advances expected with any new vehicle or model. Tighter steering, roomier interior, remote start, leather upholstery, heated front seats, and satellite radio. Cobalt fans love the six-speed manual transmission or optional six-speed automatic offered in the Cruze's LS and Eco trims.
Chevy's efforts with the Cruze speak to the fact that the company fully intends to succeed in the compact sedan sector, clearly having created its first truly competitive vehicle in the class. The compact Cruze is a success with its luxurious interior, precise handling, and spirited fuel economy. – MPG City 22 / Hwy 35