The 2016 Chevrolet Corvette Z06 is redefining the concept of the super car. For years the Corvette has competed on performance far out of its price range. With the 2016 Chevy Corvette Z06 Chevy has built on that raw power and added cockpit refinement. The 2016 Corvette Z06 Builds on the incredible success of the 2015 Redesign. Come in and test drive a Chevrolet today!
2016 Chevrolet Corvette Z06
When it comes to performance, the 2016 Chevrolet Corvette Z06 is in a class of its own. The supercharged V8 engine delivers explosive acceleration. The Z06 LT2 red brake calipers allow the necessary control to keep this super car on the road. These track-ready models double as highway cruisers and even give you an impressive around-town ride. Although you can spend a lot more on a high-performance sports car, the performance the Corvette delivers for its price is unmatched.
The Z06 derives its power from a supercharged, 6.2-liter V8 engine that makes 650 horsepower and 650 pound-feet of torque. With the seven-speed manual transmission, you'll enjoy total control over performance. For a more relaxing drive, check out the eight-speed automatic transmission. It comes with paddle shifters, so you can still downshift on demand.
High-tech performance features include a performance data recorder, which includes a built-in track camera. It monitors your acceleration and various ride metrics, giving you a better understanding of how to improve your performance on the track. The Corvette is also outfitted with five different performance modes: Weather, Eco, Tour, Sport, and Track. Choose the mode that best suits your current environment for optimal transmission, throttle, steering, and stability-control adjustments.
Inside, the 2016 Chevrolet Corvette Z06 has a luxurious cockpit that is both classy and user-friendly. Seating is well bolstered and supportive, keeping you snug during spirited rides. If you plan on testing the limits of the Z06, add sports seats for increased support. Coupe models offer 15 cubic feet of cargo space – plenty for golf clubs or sizeable grocery hauls. The convertible's cargo hold provides a healthy 10 cubes. Both models come with a power-closing trunk, making it easy to load or unload cargo.
The 2016 Chevrolet Corvette Z06 is stocked with all the latest tech gear. The heads-up display projects vital stats on the windshield, so there's no need to look down. An in-car Wi-Fi hotspot lets you connect up to seven devices for easy Web surfing from anywhere. The MyLink infotainment touchscreen interface offers clear graphics and intuitive menus. Thanks to Apple CarPlay technology, you can interact with iPhone options via the central touchscreen. The Bose audio system delivers crystal-clear sound.
The 2016 Chevrolet Corvette Z06 is also packed with modern safety features. The standard OnStar telematics system helps you solve unexpected problems, with options like on-demand roadside assistance and automatic crash notification. The standard rearview camera makes backing up a simple task. The brakes provide world-class stopping power, so you can bring the Z06 to a quick stop from top speeds.

Corvette Z06 3LZ
If want to combine the Z06's superior speed with premium luxury, test-drive the Z06 3LZ. It enhances interior style and comfort with first-rate leather upholstery and extended surface coverage. The standard navigation system guides you through unknown territory. The performance data recorder is also standard equipment.

Supercar Performance
Tour the highway – or the track – with 650 horses and 650 lb.-ft. of torque.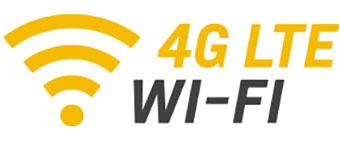 4G LTE Wi-Fi
The Internet is always with you, wherever you go.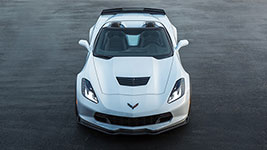 Z06 Aero Package
Enhance performance with upgrades like a unique carbon-fiber hood.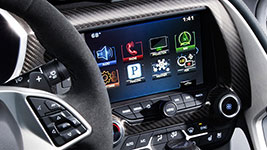 Chevrolet MyLink
These intuitive apps keep you entertained, informed, and connected.
Conclusion
The 2016 Chevrolet Corvette Z06 combines premium power with world-class interior luxury. The supercharged engine delivers the speed you crave, thanks to its 650 horses. Overall, the powertrain provides optimal performance in just about any setting. The Z06's high-tech features, including standard OnStar and Wi-Fi, keep you connected and protected. Come in and test drive a Corvette today!