It would be easy to go for a crossover instead if you're looking at buying a midsize sedan these days–but only because the choice of midsize sedans is just so good right now that it's genuinely difficult to choose one. It's harder to find a bad sedan than a superb one right now, so let's take a closer look at the 2017 Hyundai Sonata and the Honda Accord to see which is most deserving of your attention.
2017 Hyundai Sonata vs Honda Accord
Styling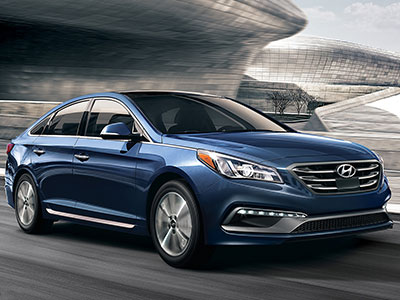 When it was redesigned in 2015, the Hyundai Sonata took on a look that was probably a little more organic and sober than it had been in the past. A good deal of chrome was eliminated and the Sonata now has a more elegant, sophisticated, and handsome style all round. There's a definite German influence in there, and that's almost always a very good thing.
The Honda Accord got a mild refresh just last year, and there's enough flair and style to keep it relevant for the time being. The Accord now well into its ninth-generation, and unless you opt for the coupe it is starting to look a little dull. The Sonata has a small edge in the styling department.
Features and Equipment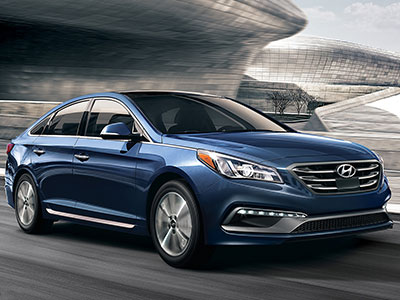 Hyundai shook off its bargain-basement persona a few years ago, but the amount of standard equipment it offers still makes its vehicles a great value. Standard equipment includes: a rearview camera, power features, 16-inch alloys, automatic headlights, and an infotainment system with AM/FM/XM/HD/CD audio, Apple CarPlay and Android Auto, a 7.0-inch touchscreen, Bluetooth with audio streaming, and a USB port.
Honda could be accused of skimping on equipment and features in base models in previous years, but not anymore. Even the base LX model includes: dual-zone automatic climate control, 16-inch alloys, Bluetooth connectivity, a rearview camera, an 8.0-inch touchscreen infotainment system, a multi-angle rearview camera, and LED taillights. A few extra options, including streaming and entertainment options, give the Sonata the slight edge.
Interior Comfort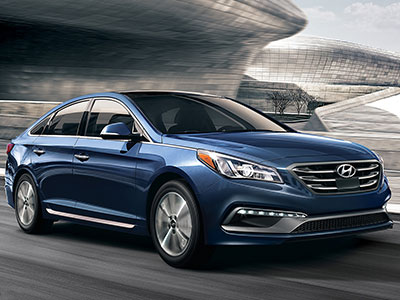 Although the 2017 Hyundai Sonata is marketed as a midsize, the EPA has it technically defined as a large sedan. The result is plenty of room inside for the driver and passengers, such as 45.5 inches of front legroom and an overall passenger volume of an impressive 106.1 cu.-ft., while there's also a generous 16.3 cu.-ft. for cargo too. There are also loads of storage bins and cubbies for bits and pieces, so this really is a superb interior for families.
The latest Accord is smaller than its predecessor, but clever use has been made of the available interior space so it actually feels roomier. It's still not as spacious as the Sonata though, with just 103.2 cu.-ft. of passenger room and 15.8 cu.-ft. of trunk space. The cabin is extremely quiet and comfortable, but the additional space in the Hyundai Sonata just gives it the win this time.
Performance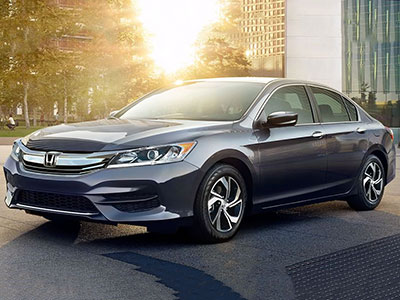 There are two engine options for the Sonata, which are a 2.4-liter inline-four and a 2.0-liter inline-four turbo. The standard engine develops a useful 185 horsepower, while the turbo ups the performance ante to 245 horsepower. The base engine is more than adequate for most buyers even though it isn't hugely quick, but the 2.0-liter is smooth, powerful and very enjoyable.
The standard engine is the Accord is very similar to the Sonata's as it's also a 2.4-liter inline-four producing 185 horsepower. However, the optional engine for the Honda is a powerful 3.5-liter V-6 putting 278 horsepower at your disposal, which can be had with a six-speed manual or a six-speed automatic transmission and also features cylinder deactivation. This has to be a relatively easy win for the Honda Accord.
Learn More about the Hyundai Sonata
Nobody looking at buying a midsize sedan right now will dismiss the Honda Accord out of hand, and rightly so. But if you don't want to follow the crowd, want something a little more interesting and with more space than the Accord, the 2017 Hyundai Sonata is definitely a great choice. The Hyundai is also a bit more affordable than the Honda at the entry level, so that tips the balance in its favor for us.