Midsize SUVs are perfect if you are looking for seating for five but with a little more power and capability than that of a compact SUV. Both the 2017 Hyundai Santa Fe and the 2017 Ford Escape fit the bill. Let's take a look at them in our side-by-side comparison.
2017 Hyundai Santa Fe vs Ford Escape
Towing Capacity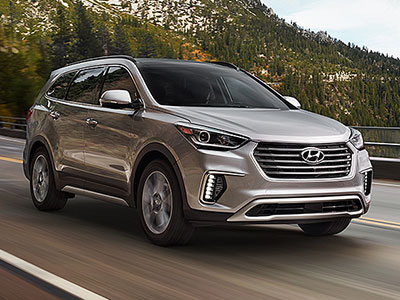 One category in which a midsize SUV beats a compact is towing capability. The Ford Escape gives you a max towing capacity of 3,500 lbs of towing. Having this capacity gives you room to tow your favorite boat or water toys, turning your SUV into not only a capable family hauler but also an adventure mobile as well.
The Hyundai Santa Fe, however, boasts a 5,000 lb max towing capacity. So if you want to spring for the bigger boat motor and the larger deck space on the boat, the Santa Fe will allow for that. So, with 1,500 extra lbs of towing power, the Hyundai wins this category,
Safety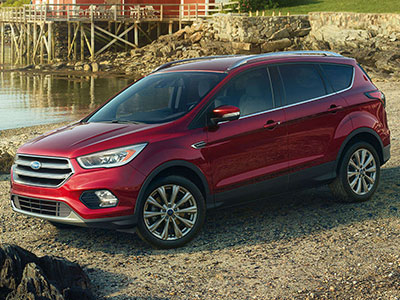 Nowadays,most crash test ratings are about the same in many vehicles, but what sets them apart is extra features. The Santa Fe's Automatic Emergency Braking system senses when a crash is quickly approaching and applies the brakes when if you fail to so. The Lane Departure Warning alerts you when you are drifting off into the other lane so you can make a correction. The rear parking sensor lets you know if something is behind you when you're backing up.
The Escape has similar features but most of them are automated so that human error can be eliminated. The Lane Keep System senses when you are drifting into the next lane and automatically makes the correction to keep you centered. The Forward Collision Warning with Brake Support senses when a frontal collision is coming, warns you, and then primes the brakes for a more immediate response. Finally, the Enhanced Parking Assist helps with parallel parking (finding a suitable spot, gives directions, and takes the wheel for you) and backing in to a perpendicular spot. Because of the automation in more areas, the Escape wins this round.
Convenience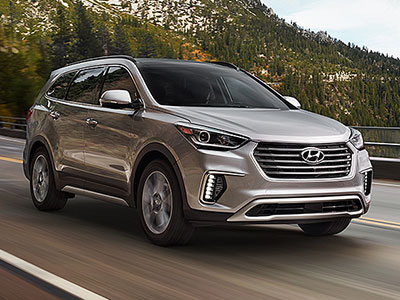 If your car makes your life harder more than make it easier, its not worth it. The Ford Escape is equipped with FordPass which allows you to turn on or off your car, see diagnostic info, schedule maintenance appointments and more. The Sync 3 allows you to connect to your phone for easy, hands free calling, texting, and music streaming. Getting your stuff into the cargo area is made easier with a foot activated lift gate.
While the MyHyundai app is equivalent to the FordPass, the Santa Fe takes the rest a little bit farther. Equipped with both Apple Car Play and Android Auto, the Santa Fe allows you to connect to your iPhone or Android wirelessly and, in addition to making calls and texts, and streaming your music, you can run your phone's apps through the in-dash touch screen. That means you have easy access to your maps, podcasts, Siri's dry wit, and more. Finally, the Smart Lift Gate can open without hands, buttons, or kicking your feet under the truck. It opens automatically when you have the keys and are within three feet behind the car standing still for more than three seconds. This innovation is great for full hands and clumsy feet.
Warranty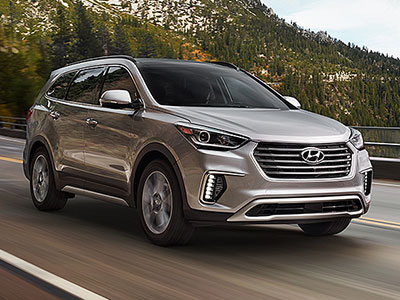 One of the main reasons for buying new is the peace of mind that comes with a manufacturer's warranty. Ford offers a standard 3 year/36,000 mile limited new car warranty. That means if something breaks in that time, Ford will take care of it. They also give you a 5 year/60,000 mile powertrain warranty. This warranty covers you, but often for not as long as you are making payments on your vehicle.
Hyundai, once again, takes it a little bit further. With a new Santa Fe, the limited new car warranty is 5 years/60,000 miles and the powertrain warranty is for 10 years/100,000 miles. This just goes to show Hyundai's confidence in their vehicles, their workmanship, and quality of parts. With that kind of guarantee, you can drive away with both a new car and peace of mind.
Learn More about the Hyundai Santa Fe
In this side-by-side comparison, the Hyundai Santa Fe clearly comes out on top. If a better warranty, more towing capability, and a higher convenience aren't enough, the Santa Fe looks sportier than the Ford. Ultimately, when you're buying a midsize SUV, you want the total package–power, performance, and panache. You've got it all in the 2017 Hyundai Santa Fe.