The Ford Explorer is a traditional full-size SUV that supplies a roomy cabin, modern convenience features, and impressive power. This iconic model was the first SUV to hit the mainstream in a major way. Today, it remains a standout in its class. Inside, passengers enjoy plush, spacious seating. Under the hood, its dependable engine options give you the necessary power to get you wherever you need to go. Come in and test drive a used Explorer today!
Used Ford Explorer

If you're shopping for a used, three-row SUV, you can't go wrong with the Ford Explorer. Choose from four trim models – the base, XLT, Limited, and Sport – all of which offer impressive comfort, modern convenience, and powerful performance. Inside, the voice-activated Sync system gives you easy access to infotainment features. Keyless entry and ignition save time in the parking lot. Advanced safety systems, like collision warning, warn you of dangers you might not be able to see.
The standard engine is a 3.5-liter V6. With 290 horsepower, you'll enjoy a smooth, comfortable ride. Add all-wheel drive for impressive traction over slick roads. For increased fuel efficiency, check out the 2.0-liter turbocharged four-cylinder engine. Finally, the Sport model optimizes performance with a turbocharged version of the base V6, boosting output to 365 horses. All engines are paired with a quick-shifting, six-speed automatic transmission.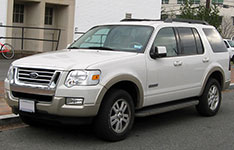 The fourth generation used Ford Explorer introduced enhanced safety equipment and a sleek, modern style – both inside and out. The V8 engine was upgraded, boosting output to 292 horses. Its new six-speed automatic transmission created a smooth, responsive ride. Stability control became standard for the entire lineup, thereby improving on-road balance and safety. In 2008, the voice-activated Sync system debuted, giving drivers the power to alter infotainment options without looking away from the road.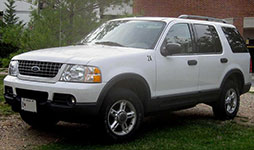 Initially, these used Ford Explorer SUVs were available as the XLS, XLT, Limited, and Eddie Bauer trims. You could also choose a long wheelbase model that created impressive space for third-row passengers. Shoppers could choose between two powerful engines: a 210-horsepower V6 and a 239-horsepower V8. In 2004, stability control became available for all models. In 2005, the stability control system was enhanced to include roll stability control, which protected passengers from the risk of rollover.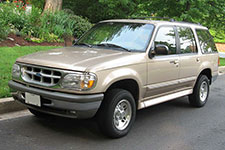 Used Ford Explorer SUV shoppers will love the second-generation. Choose from a variety of well-equipped trim models: the XL, XLT, Eddie Bauer, and Limited. The two-door Sport was also available, offering a smooth, athletic performance. Shoppers could choose from three engine options. The base V6 generated 160 horses for impressive acceleration. For a swifter ride, the 5.0-liter V8 produced 210 horses. In 1997, a new V6 debuted, offering 210 horses.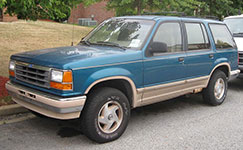 When the Ford Explorer first hit the market, it replaced the famous Bronco II. Thanks to its roomy cabin and powerful performance, it was instantly popular. The iconic model eventually set the standard for the entire SUV segment. These models were available in either four- or two-door body styles. At the outset, shoppers could choose between two trim models – the XLS and XLT. In 1992, the Eddie Bauer model launched, followed closely by the upscale Limited. The original Explorer offered a swift ride with its 155-horsepower V6 engine. In 1993, the engine was retooled to generate 160 horses. That same year, antilock brakes became standard equipment.