In some ways it's pretty hard to compare the 2017 Hyundai Veloster with any other car. After all, if you are going to try and find another model with one door on the driver's side and two on the passenger side, you're pretty much wasting your time. But if we ignore the unique door configuration for a moment, the Mazda 3 5-door is a sporty car of a similar size, so let's see how these two will measure up against each other.
2017 Hyundai Veloster vs Mazda 3 5-door
Exterior Styling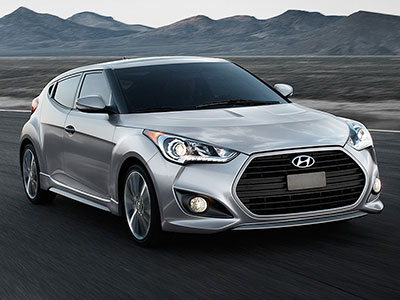 It's hard to properly categorize the 2017 Hyundai Veloster, but it's probably fair to think of it as a compact sports coupe, albeit one with a quite unique door arrangement. The roofline, profile, and innovative layout are enough on their own without having to resort to additional exterior trim and adornments, so Hyundai has stayed away from bling and produced a very attractive car.
The 5-door probably isn't the most attractive version of the Mazda 3, but that's not necessarily a criticism since all versions of the little Mazda are really great-looking cars. It's hard to side with any small car's styling over the Mazda 3, but there's just something about the three-door format and coupe styling that does give the Veloster a slight edge here.
Interior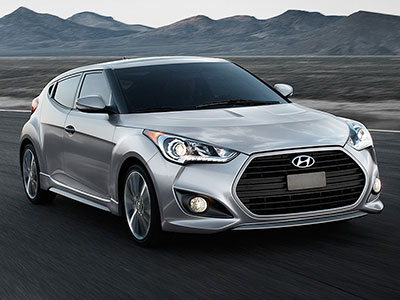 The Veloster is a four-seat model, but cars of this size are rarely used for carrying a full complement of passengers on a regular basis so the way the rear seats can be folded for more cargo space is really useful. Access through that extra passenger door also makes life easier. There are lots of bins, cubbies, and nooks for stowing away smaller items too, and the overall quality is excellent for a car at this price.
Noise used to be an issue inside the Mazda 3, but the latest models have taken care of this. Even though it's a little bigger than the Hyundai, it's not exactly cavernous and there's obviously been some cost-cutting with a mix of materials and plastics. The better quality of the Veloster gives Hyundai a win here then.
Features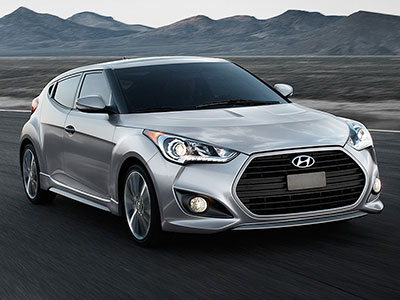 You get a lot of standard features for your money with the Veloster. Even entry models come standard with features that include power features, an AM/FM/XM/CD audio system with Bluetooth audio streaming and a USB port, a rearview camera, steering-wheel audio controls, cruise control, air conditioning and 17-inch wheels.
The Mazda isn't exactly sparse either when it comes to standard kit. All models include: air conditioning, power doors and windows, Bluetooth connectivity, a keyless ignition, a rearview camera, steering-wheel mounted stereo controls, internet radio streaming, and a 7.0-inch touchscreen for its infotainment controls. However, smaller 16-inch wheels hand another win to the Veloster.
Fuel Economy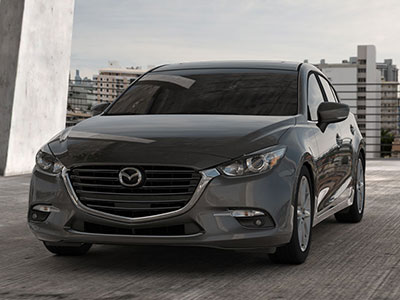 Learn More about the Hyundai Veloster
The Mazda 3 looks great on the outside, but it's a bit of a letdown when you get inside. There's less room than you might expect, the materials are a real mix of quality, the infotainment system is a little dated, and the price can get a little steep. In contrast, the 2017 Hyundai Veloster offers sports car design and fun in a cohesive and unique design, with a good dose of practicality to make the driving experience as good as possible. The impressive Blue Link system is now standard, and the R-Spec Turbo really is a lot of fun to drive. The Mazda is good, but the Hyundai is better.