To get around town in style, with fuel economy and elbow room to spare, check out compact crossovers like the 2017 Hyundai Tucson and Kia Sportage. In addition to family-friendly features, these models are adventure-friendly, with all-wheel drive and towing capabilities. Read our comparison guide to learn which of these two models floats your boat.
2017 Hyundai Tucson vs Kia Sportage
Family-Friendly Comfort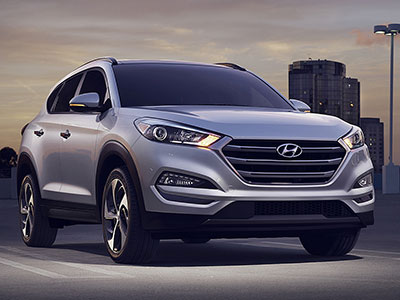 Load up the whole family in the Tucson, and there's still elbow room to spare. That's the kind of space everyone appreciates on long road trips. This roomy crossover is also celebrated for its attractive cabin, which includes high-quality materials and a clean-cut dash design. Buttons and controls on the dash are logically arranged, making for a straightforward experience.
For this segment, the Sportage also offers outstanding passenger space and comfort. Both rows are 6-footer-friendly, with excellent thigh support to boot. The cabin will remind you of a mid-size crossover – it's that spacious. However, we prefer the Tucson's clean-cut dash layout and attractive cabin. The Sportage cabin is competitive, but doesn't feel quite as upscale.
Safety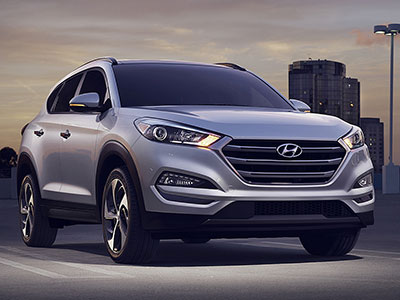 In government crash tests, the 2017 Hyundai Tucson impresses a perfect five-star rating for overall protection. The Blue Link telematics system supplies everything you could want in an emergency, from roadside assistance to emergency crash notification. Add the Ultimate package, and driver aids like blind-spot monitoring will alert you to danger. The forward collision warning system can detect pedestrians and automatically apply the brakes to help you skirt danger.
The Kia Sportage also landed a perfect five-star rating in government crash tests. It, too, offers an emergency telematics system, making it easy to call for help with a stolen vehicle or unexpected breakdown. However, with the Sportage, you have to purchase the top-trim Sportage SX Turbo to get high-tech driver aids like blind-spot monitoring.
Tech & Convenience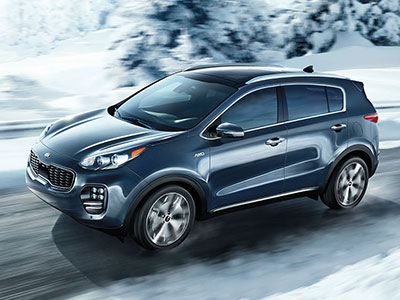 No matter where you wander, the Sportage tech lineup keeps you connected. Starting with the mid-grade EX, the Sportage comes with Apple CarPlay and Android Auto. This smartphone technology lets you check texts, hands-free, or use your phone's Map app in lieu of the navigation system.
As in the Sportage, the Tucson's central touchscreen is quick to respond to your touch, so you won't be left jabbing at it in anger. You'll also appreciate little conveniences like the auto-dimming rearview mirror, which reduces glare after hours. You can also get Apple CarPlay and Android Auto for complete smartphone integration, but only on top-trim SE Plus and Limited models.
Power & Performance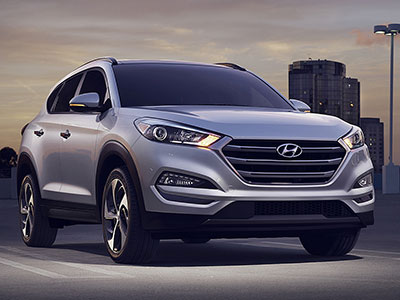 In this competition, the 2017 Hyundai Tucson delivers the thriftiest performance, earning up to 26 city/32 highway mpg. It also tows up to 1,500 pounds, so you can haul your Jet Ski to the bay every weekend. Add all-wheel drive to increase traction, and the Tucson keeps its footing on light trails and wet roads.
In the Kia Sportage, you can tow up to 2,000 pounds, which may make it the right pick for buyers who own two Jet Skis. However, you can expect to pay a little more at the pump, because the Sportage's max EPA ratings are 23/30 mpg.
Learn More about the Hyundai Tucson
In the 2017 Hyundai Tucson, you're getting the star treatment at a cut rate. That's why it's our overall pick for family-style comfort and performance. More than a roomy road trip and impressive fuel economy, though, the Tucson keeps you connected with innovative tech features. Cutting-edge safety gear monitors your surroundings for danger, and can even help when the unexpected happens. On the road, this crossover is confident and capable.