Small crossover SUVs, like the 2017 Hyundai Santa Fe Sport and Nissan Rogue Sport, are prime picks for thrifty commuters and tech-savvy socialites alike. They combine a sporty ride with impressive fuel economy, and they're packed with all the latest infotainment options. Which is the crossover for you? Read our comparison guide for more info.
2017 Hyundai Santa Fe Sport vs Nissan Rogue Sport
Cabin Comforts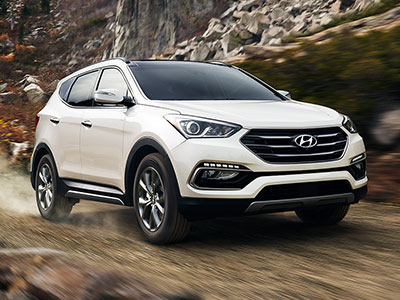 In this segment, the Santa Fe Sport leads the way with its high-quality materials and classic style. The dash layout is straightforward, putting oft-used controls within easy reach of the driver seat. And, perhaps more importantly, the cabin is plush and spacious, supplying both rows of passengers with the head and leg room they require for long-term comfort.
When you test-drive the Nissan Rogue Sport, you'll enjoy soft cushioning that fares well on long commutes. This crossover also supplies a smooth, quiet ride on every family road trip. We just wish the Rogue Sport was a tad bit more luxurious – the Santa Fe Sport offers a classier take on comfort.
Technology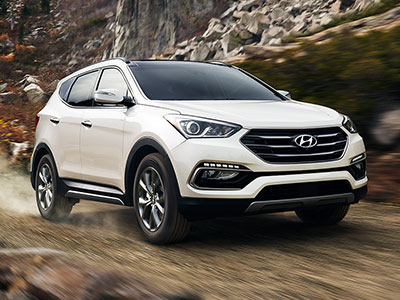 Smartphone lovers will thrive in the 2017 Hyundai Santa Fe Sport. The 7-inch touchscreen is easy to use, with large graphics to help you avoid fat-fingering the wrong app. And, thanks to Android Auto and Apple CarPlay technology, you can use your phone's voice controls through the central system. Just ask, and the system can read your text messages or display your Maps app on the central touchscreen.
For an economy crossover, the Nissan Rogue Sport offers an impressive array of tech features. It also features a 7-inch touchscreen that's quick to respond to your requests. If you've got an iPhone, you're in luck, because the Rogue Sport's Siri Eyes Free technology lets you talk to your smartphone as you head down the road. However, if you're looking for expanded Android features, you're going to have to shop elsewhere.
Safety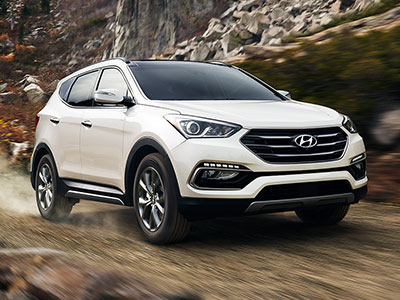 For an extra sense of security, choose the Santa Fe Sport. It earned a perfect five-star overall rating in government crash tests. On top of that, the Insurance Institute for Highway Safety gave its forward collision mitigation system a rare score of "Superior." This technology doesn't just warn you of danger – it applies the brakes to help you avoid it.
The Rogue Sport also delivers cutting-edge driver aids. For example, the blind-spot alert helps you switch lanes safely. Both models provide emergency telematics services, so you can solve unexpected issues with features like on-demand roadside assistance. The Rogue Sport wasn't rated in government crash tests, but it comes standard with all the basic safety features, including anti-lock brakes and airbags.
Power & Performance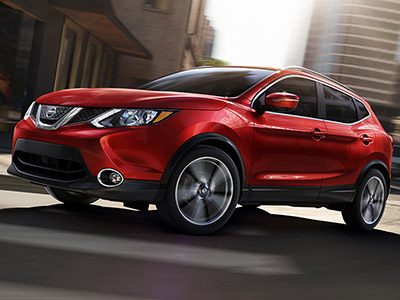 If you're looking to pinch pennies at the pump, give the Nissan Rogue Sport a spin. It earns up to 25 city/32 highway mpg. This sporty crossover also provides a taste of adventure. Add all-wheel drive, and you can take your Rogue Sport onto light trails, such as at campsites and beaches, without getting stuck.
The 2017 Hyundai Santa Fe Sport earns up to 21/27 mpg, which isn't bad when you consider its quick acceleration. As with the Rogue Sport, you can add all-wheel drive to the powertrain for enhanced grip on soft surfaces, such as icy pavement.
Learn More about the Hyundai Santa Fe Sport
These crossovers have a lot in common – including a sporty ride – but the 2017 Hyundai Santa Fe Sport won us over. For starters, we love the its creature comforts. No matter how long the ride, you'll have enough space and plenty of cushioning. Tech features, including smartphone integration, keep you connected in a hands-free fashion. On the road, this crossover is more than smooth and composed – it's fuel-efficient and quick on its feet.