Don't overspend on a crossover SUV – enjoy stylish comfort and generous tech features in budget-friendly models like the 2017 Hyundai Santa Fe Sport and Honda CR-V. In addition to attractive MSRPs, these crossovers give you a comfortable, fuel-efficient daily commute. Which model is right for you? Our comparison guide is here to help you figure things out.
2017 Hyundai Santa Fe Sport vs Honda CR-V
Comfort & Convenience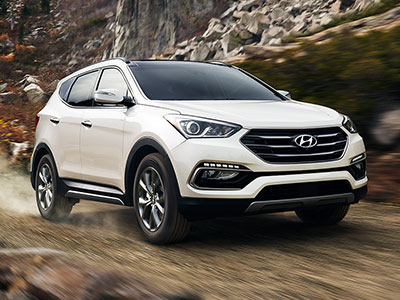 The Santa Fe Sport is the clear-cut winner – it might be affordable, but nothing in the cabin gives it away as such. High-quality cabin materials give you the luxury treatment. Plush, supportive seating provides comfort, all the way to work and back.
The Honda CR-V's smooth, quiet ride belies a much more expensive model. Throughout the cabin, the supportive seats get two thumbs up. If there's one catch, it's that the continuously variable transmission can get loud during hard acceleration, cutting down on refinement on the highway.
Utility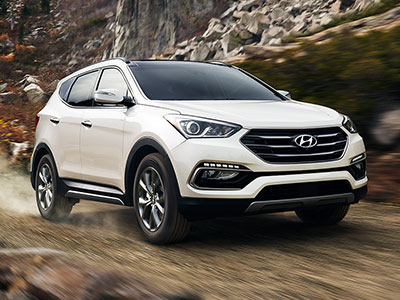 For forays into the great outdoors, the Santa Fe Sport will serve you well. Its all-wheel-drive capabilities will send you down light trails with maximum traction. Tow up to 3,500 pounds' worth of boat to your favorite weekend fishing spot – no problem.
Like the Santa Fe Sport, the CR-V offers a sporty ride with its all-wheel-drive technology. If you live in a wet climate, you'll also find that all-wheel drive enhances safety during rain and snowstorms. The Santa Fe Sport can tow up to 1,500 pounds – which will do just fine for Jet Ski owners but doesn't match the Santa Fe Sport's capacity.
Fuel Economy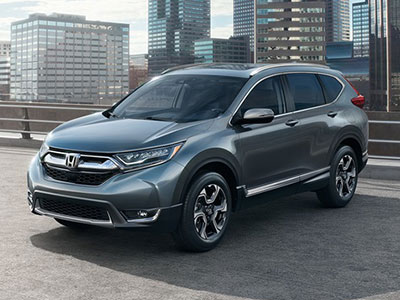 To increase savings at the pump, check out what the CR-V has to offer. Depending on which powertrain you select, the CR-V earns up to 28 city/34 highway mpg. (http://www.fueleconomy.gov/feg/PowerSearch.do?action=noform&path=1&year1=2017&year2=2017&make=Honda&baseModel=CR-V&srchtyp=ymm) It's also got pep, with enough speed to deliver a capable, predictable performance.
The Santa Fe Sport earns up to 21 city/27 highway mpg, a fairly typical performance in this class. (http://www.fueleconomy.gov/feg/PowerSearch.do?action=noform&path=1&year1=2017&year2=2017&make=Hyundai&baseModel=Santa%20Fe&srchtyp=ymm) It balances fuel ratings with plenty of muscle. In addition to the Santa Fe Sport's towing capabilities, you'll also enjoy a strong, smooth ride.
Safety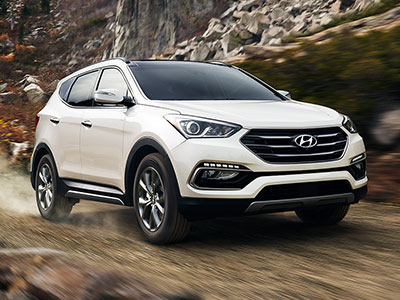 The Santa Fe Sport puts you and your passengers first. In government crash tests, this crossover shows its worth with a perfect five-star rating for overall protection. (https://www.nhtsa.gov/vehicle/2017/HYUNDAI/SANTA%252520FE%252520SPORT/SUV/FWD) It also earned the Insurance Institute for Highway Safety's top score of "Good" in every single crash test. The forward collision warning system earned a rare "Superior" from the IIHS. When this technology senses an imminent crash, it springs into action, applying the brakes to help you come to a quick stop.
The Honda CR-V also gets high marks from the IIHS, earning the Top Safety pick distinction and a Superior as well. ( http://www.iihs.org/iihs/ratings/vehicle/v/honda/cr-v-4-door-suv/2017) However, Honda's active safety features have had some owners complaining of glitches and overactivity, which can cause problems where none exist. We're giving the nod to the Hyundai in this category.
Learn More about the Hyundai Santa Fe Sport
The 2017 Hyundai Santa Fe Sport surpasses the Honda CR-V with its tow-friendly ride and smooth acceleration. Inside, the Santa Fe Sport feels spacious and stylish. As you cruise across state lines and into your next adventure, the whole social crew will enjoy the head and leg room they need, the technology you need to stay connected, and the safety rating to keep you driving with confidence.