Take modern creature comforts and hands-free infotainment options with you wherever you go in modern compact sedans like the 2017 Hyundai Elantra and Honda Civic. Which model is right for you? That depends. Check out our comparison guide to learn more.
2017 Hyundai Elantra vs Honda Civic
Interior Refinement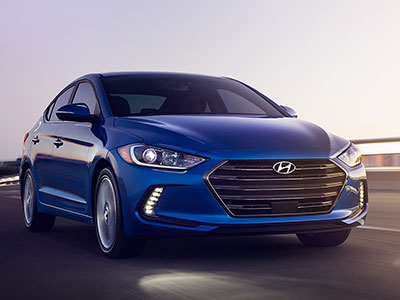 The 2017 Hyundai Elantra smokes the competition with its fresh new cabin. Fully redesigned for 2017, its new look includes a sleek black dash and cozy comforts like heated front seats. With so much style at your command, you'll feel like you spent big bucks on a full-size luxury sedan. The 2017 Hyundai Elantra is also big on space, giving passengers the necessary head- and legroom for a comfy trip.
Similarly, the Civic is much bigger on the inside than it appears on the outside. It even offers slightly more cargo space, with 15.1 cubic feet in the trunk (compared to the Elantra's 14.4 cubes). The Civic hauls family-friendly grocery or game day hauls without issue. In terms of refinement, however, the Elantra has the edge. The Civic might deliver a smooth, comfortable ride, but it's the Elantra that makes you feel like you've spent big on a new ride.
Tech & Infotainment Gear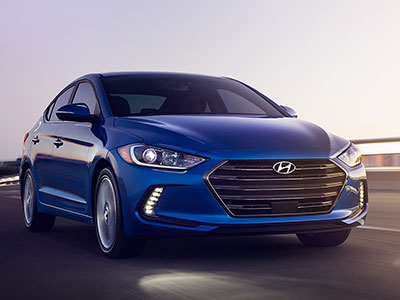 The Elantra's tech lineup does more than get you through road trips (with turn-by-turn navigation) and keep you connected with hands-free calling and texting (via Apple CarPlay and Android Auto). With the 2017 Hyundai Elantra, finding the app you need is easy, thanks to the sharp, responsive touchscreen. Sophisticated voice controls come in handy when you want to change the music but can't look away from a busy road.
The newly redesigned Honda Civic is also big on modern technology. Add Apple CarPlay and Android Auto, and the infotainment system displays smartphone apps directly on the cabin's central touchscreen. If there's one downside, it's the system's touchscreen, which can be slow to respond to your touch. There's also a learning curve for the menu system, which can feel counterintuitive at first.
Fuel Economy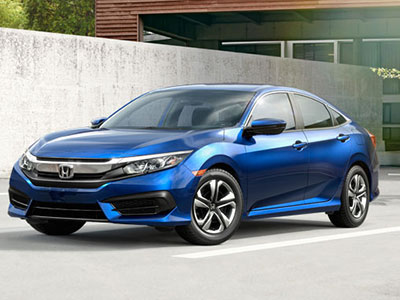 Here, the 2017 Honda Civic has the edge. It saves you the most money on fuel, earning up to 32 city/42 highway mpg. (http://www.fueleconomy.gov/feg/PowerSearch.do?action=noform&path=1&year1=2017&year2=2017&make=Honda&baseModel=Civic&srchtyp=ymm) That's pretty incredible, especially when you consider how much fun the Civic is to drive. It delivers speed when you need it, and merging into jam-packed highways like cutting through butter.
The Elantra is also all about fuel economy. It comes in just behind the Civic, earning up to 32/40 mpg. This year, the 2017 Hyundai Elantra introduces three new engines, so you can actually tailor your experience to be as thrifty or as sporty as you like.
Safety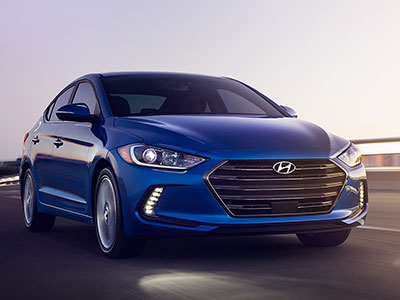 When you're concentrating on heavy traffic or rainy road conditions, the last thing you want to worry about is safety. Choose the 2017 Hyundai Elantra for peace of mind in a pinch. In government crash tests, it earned a perfect five-star rating for overall protection. (https://www.nhtsa.gov/vehicle/2017/HYUNDAI/ELANTRA%252520GT/5%252520HB/FWD) The Elantra's advanced driver aids do a lot of heavy lifting, too, by constantly monitoring your surroundings for danger. The forward collision mitigation system even automatically applies the brakes to bring you up short of a crash.
The Honda Civic also earned the government's top score for overall crash protection. Like the Elantra, it's one of the few vehicles in this class to offer high-tech driver aids like lane departure warning. (https://www.nhtsa.gov/vehicle/2017/HONDA/CIVIC/5%252520HB/FWD) However, in traffic, the adaptive cruise control system can be too quick to react, crying wolf about potential collisions.
Learn More about the Hyundai Elantra
There's a lot to like about both of these models, but the 2017 Hyundai Elantra is our pick. This compact is perfect for around-town cruising and cross-country adventures alike, thanks to its world-class fuel economy and peppy new powertrains. Inside, the compact Elantra is more than just surprisingly spacious – it's stylish and refined, with high-quality materials and a new modern design.