Just because you don't have a luxury vehicle budget doesn't mean you should settle for something less than awesome. If you're looking for a budget-friendly vehicle that is brand new, rather than opting for a used model, focus your attention on two impressive models: the 2017 Hyundai Accent and the Kia Rio. Let's see how they shape up against each other.
2017 Hyundai Accent vs Kia Rio
Styling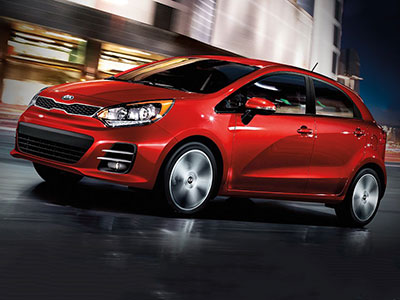 You can opt for sedan and hatch versions of the 2017 Hyundai Accent and they're both nice looking, but the hatch definitely has the edge over the sedan. It's been around for a few years now but it still looks handsome, fresh, and youthful. The Accent hatch even borders on the sporty at times.
Unsurprisingly for cars that are so closely related to each other, the Kia Rio follows very similar lines to the 2017 Hyundai Accent. It's also available as a hatch and a sedan and the hatch is definitely the more attractive car. The sedan is a little more attractive than many of its four-door subcompact rivals.
Features and Equipment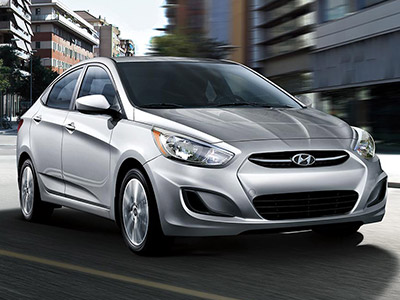 You have to be realistic with cars at this price point about what you should expect in terms of features and equipment, but the Accent does cover most of the essentials. Standard kit includes the likes of: power windows, locks, and mirrors; air conditioning; satellite radio; heated mirrors; an AM/FM/XM/CD player with a USB port; and keyless entry.
It might surprise some people in this day and age, but the Rio is like a car from Kia's past when it comes to the specification of its base model. Although you do thankfully get air conditioning and satellite radio, you will also have to put up with hand-crank windows, locks and a pretty unremarkable six-speed manual transmission. This is definitely the Accent's round.
Fuel Economy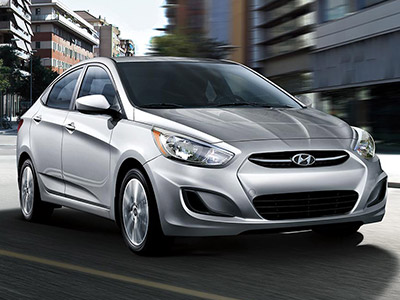 Whether you go for the manual or the automatic transmission, you won't be disappointed with the 2017 Hyundai Accent when it comes to fuel economy. With the manual transmission the EPA rates the Hyundai at 27 mpg in the city, 37 mpg on the highway and 31 mpg combined. If you want automatic, those numbers change slightly to 26/36/30 mpg.
The Rio is pretty close to the Accent for fuel efficiency, as you'd probably expect. With an automatic transmission expect ratings of 27 mpg in the city, 36 mpg on the highway and 30 mpg combined. An "Eco" version is available, but the marginal improvement still leaves the Rio a little short of the Hyundai so this is another win for the Accent.
Performance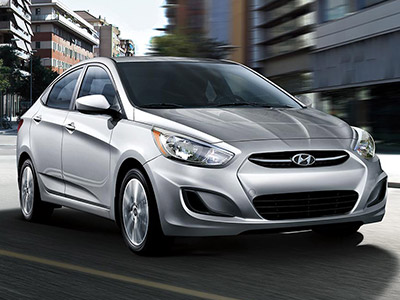 There's just one engine available in the 2017 Hyundai Accent, which is a 1.6-liter inline-four developing 138 horsepower and 123 lb.-ft. of torque, which isn't terrible in a car of this size at all. Both transmissions are pretty good too, so the overall package is more than likeable even if it's not a white knuckle ride.
Guess what the Kia Rio has under the hood? That's right, a suspiciously similar 1.6-liter inline four producing the same horsepower as the Hyundai. Base models are only available with the manual, and the "Active Eco" button has more of an adverse effect on performance that it has a positive effect on fuel economy.
Learn More about the Hyundai Accent
If you're realistic about what to expect from a brand new car starting from somewhere between $16k and $17k, there's a lot to like about both of these two. What sets both of these cars apart from rivals in the segment is the five-year, 60,000-mile warranty they both come with, which really should make you think twice about buying something else pre-owned. However, the Hyundai is just a little better than the Kia in a number of ways so, the Accent gets our nod.