The 2017 Ford Transit Connect is a commercial van that comes in two main models – cargo van and passenger wagon. Both are highly configurable, making it easy to create the van that best suits your unique needs, whether commercial or private. Inside, you'll find plenty of space. Use the Transit Connect's roomy interior to haul cargo or transport up to seven passengers. This van also treats you to modern infotainment features, making it easy to organize a fleet or navigate heavy traffic.
2017 Ford Transit Connect
Because the 2017 Ford Transit Connect is available as either a cargo van or a passenger wagon, you'll find endless options to help you create the model that's right for you. For starters, the Transit Connect Wagon seats between five and seven passengers, depending on which configuration you select. All models are big on passenger space and support. You can even opt for interior luxuries, like leather upholstery. With heated front seats, you'll feel cozy in spite of any harsh winter weather. Inside Transit Connect Cargo Van models, you'll find two supportive front seats and a wealth of cargo space. With the long-wheelbase Cargo Van, you can fill 128.6 cubic feet of cargo space with your daily haul.
As you cruise through your workday, the new Ford Transit Connect strives to help you make the most of it. Sync voice controls give you the power to access infotainment options without looking away from the road. When you choose the Sync 3 central infotainment system, you'll enjoy a crisp, 8-inch touchscreen and quick access to important apps. With the navigation system to guide you around, you'll never miss a delivery.
The 2017 Ford Transit Connect also supplies the power and performance you crave in a workhorse commercial van. Properly equipped, the Cargo Van hauls up to 1,620 pounds. If you need to tow a trailer, it's no sweat – the Cargo Van tows max loads of 2,000 lbs. Under the hood, the Transit Connect generates plenty of output for a smooth, confident performance. Its smaller size lends itself to a certain agility that you simply won't find in traditional full-size commercial vans. That's why the Transit Connect is a great pick for companies who navigate busy city grids on a regular basis.
Finally, when it comes to safety, the new 2017 Ford Transit Connect really shines. In government crash tests, the Transit Connect Wagon earned a perfect five-star rating for overall protection. Inside, the Sync system helps keep everyone safe; it pairs to your smartphone to automatically dial 9-1-1 after a collision. This modern van is also stocked with performance innovations designed to keep you safe. Hill-start assist, for instance, keeps the Transit Connect from rolling backward at stops. The blind-spot and cross-traffic warning system actively scan your surroundings and alerts you to potential issues, thereby helping you switch lanes and pull out of parking spaces without incident.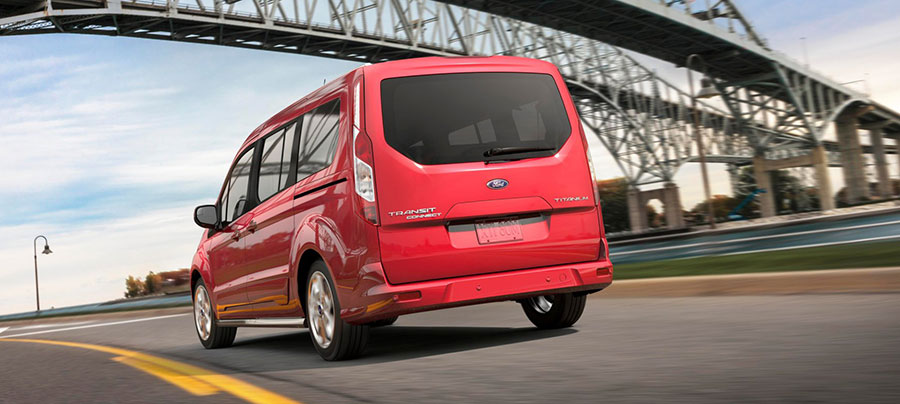 Transit Connect Titanium Wagon
When you want a luxurious people-hauler, check out the Transit Connect Titanium Wagon. This model is stocked with generous comfort features, including leather upholstery. With the navigation system, it's easy to ferry passengers anywhere and everywhere. The Sync 3 system is the next big thing in in-car infotainment, offering everything from handy voice controls to impressive smartphone integration.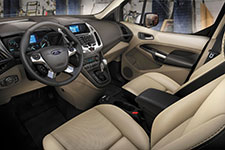 Supportive Comfort
Up front, the Transit Connect gets you through your workday in style.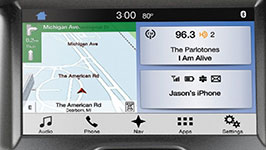 Sync 3
Infotainment apps are about more than entertainment – they prove helpful in a pinch.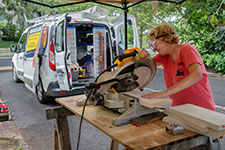 Easy Upfitting
Transform your Transit Connect into the perfect business tool.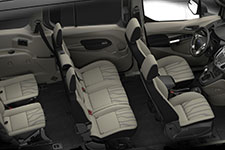 Seven-Passenger Seating
The long-wheelbase Wagon model treats you to substantial passenger space.
Conclusion
If you're shopping for the perfect commercial van – whether for company use or for use as an affordable family hauler – the 2017 Ford Transit Connect certainly has a lot to offer. The wagon model treats you to substantial comfort and enough space for five to seven passengers. If your aim is to haul cargo, the Transit Connect Cargo Van is at your service. Both models are highly configurable, which is great news for anyone who plans to transform their Transit Connect into a very specific company vehicle. See the flexibility of the Transit Connect for yourself when you come in for a test drive today!