The 2017 Ford Focus is a compact car that's known for its athletic performance, upscale cabin, and excellent safety scores. Choose the Focus to become the instant beneficiary of its soft, supportive seating and spacious accommodations. The cabin's many high-tech infotainment features help you get through the day without a hitch. In addition, the Focus keeps you safe with a wide range of innovative driver aids. You'll absolutely love the Focus's smooth performance and thrifty fuel economy.
2017 Ford Focus
Inside, the 2017 Ford Focus exceeds all expectations. In addition to modern interior design and high-quality materials, the Focus supplies enough elbowroom for the long haul. Settle into the driver seat for world-class comfort and an excellent view of traffic. This sporty compact car is also big on style. With leather upholstery, the cabin feels truly luxurious. Ambient interior lighting gives the cabin a cool, modern glow. Whether you choose the sedan or hatchback model, you'll find plenty of cargo space at your disposal. In the sedan trunk, you can fill 13.2 cubic feet of cargo space with your daily necessities. Hatchback models are even more generous, with 23.3 cubes behind the rear seats and 43.9 cubes of maximum cargo space.
Beyond comfort, the new Ford Focus is handsomely equipped with modern tech features. The Sync 3 infotainment system is simply not to be missed. It includes a crisp 8-inch touchscreen, which is quick to respond to user input. When you're searching for a particular feature, Sync 3's intuitive menus make life easier. Because the 2017 Ford Focus includes Apple CarPlay and Android Auto, you'll enjoy complete smartphone integration. Use this cutting-edge connectivity to send voice-to-text messages and access smartphone apps directly on the Sync 3 touchscreen. Use the Focus's two USB ports to keep devices charged on the go.
The 2017 Ford Focus delivers the utmost in passenger protection. In government crash tests, the Focus earned a perfect five-star rating for overall protection. The Insurance Institute for Highway Safety gave the Focus its top score of "Good." High-tech driver aids are a boon to drivers during rush hour. The blind-spot monitoring system alerts you to vehicles you might not be able to see. Similarly, the lane departure warning system lets you know if you've swerved dangerously outside the lines. Ford's Sync technology pairs with your smartphone and automatically dials 9-1-1 after a collision.
When it comes to power and performance, the new Ford Focus covers every base. It supplies inspiring fuel economy, earning up to 30 city/40 highway mpg. This thriftiness, however, isn't evident as you merge onto highways or surge past slower traffic. The Focus delivers a heady dose of speed whenever necessary. It's also big on ride comfort. In fact, the new Focus is one of the smoothest compact cars on today's roadways.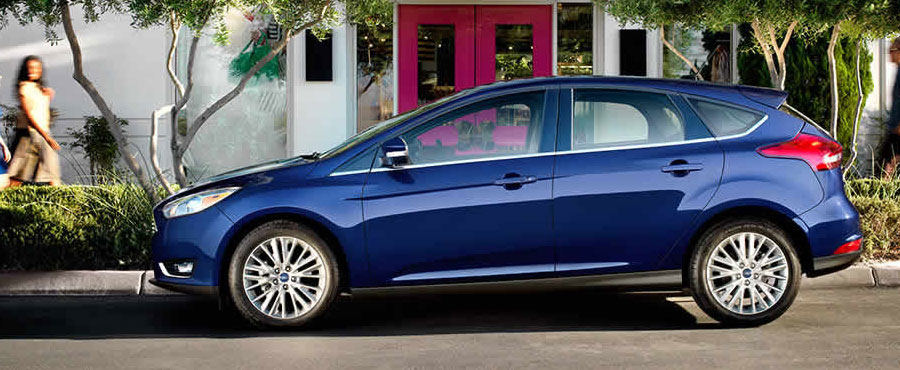 Focus Titanium
For the most the 2017 Ford Focus has to offer, check out the Titanium model. The 2017 Focus Titanium introduces rich, upscale style, thanks in part to its handsome leather upholstery. Ambient interior lighting gives the Titanium cabin a soft, urbane glow during nighttime excursions. The Titanium also helps you navigate like a pro. With the self-parking system, you'll never think twice about easing your Focus into a parallel parking space.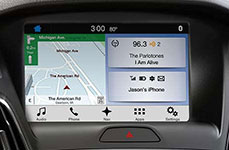 Sync 3
This innovative infotainment interface offers everything you need to stay connected.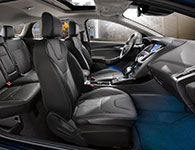 Ambient Interior Lighting
The Focus cabin offers a soft, cool glow during your nighttime rides.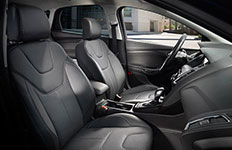 Refined Cabin
Inside, you'll find sleek style and supportive seating.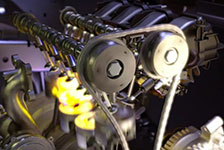 EcoBoost Power
Enjoy the perfect blend of horsepower and fuel economy.
Conclusion
When it comes down to it, the 2017 Ford Focus certainly has a lot to offer. This sleek, modern compact car offers substantial passenger space, maximizing comfort, no matter how far you travel. With features like the Sync 3 infotainment system, maintaining a link to the outside world has never been so simple. In the event that you encounter bad weather or gridlock traffic, the Focus's innovative safety aids have you covered. When it's time to hit the road, the Focus offers nothing short of excellence, with a swift, smooth ride and world-class fuel economy. Take the Focus on a test drive today!