A mid-size truck is a great way to get towing and bed capability while still getting better gas mileage and a smaller payment than a full-size truck. If you're looking for something to be able to pull your boat or transport your 4-wheeler, the 2017 Chevrolet Colorado is perfect for your needs.
2017 Chevrolet Colorado
First of all, the Colorado boasts Best in Class Gas Mileage. You can get up to 26 highway miles per gallon and an average of 22 miles per gallon. On top of that, the Colorado has a max towing capacity of 7,700 lbs and a payload max of 1,548 lbs. So if you're not in construction or planning or towing some heavy machinery to the job site, the capabilities of the Colorado will meet your needs.
The Colorado's capability continues on the inside too with its integrated technology. First, the Colorado comes with its own 4G LTE Wi-Fi so that you can take your own devices with you and not lose your connection. Connect to your Colorado even more with both Apple Car Play and Android Auto. These integrated features allow you to use the touch screen in your dashboard to run the apps on your phone so you don't lose touch or take your eyes off the road. The MyChevrolet mobile app allows you to see how your engine is doing, turn your truck on or off, or help find it when you forget where you parked in the amusement park lot or in the woods.
The advanced capability carries over into safety too. One of the most comforting features is the Teen Driver mode. When you activate it, you can set speed warnings, radio volume limits, and more. After you've activated it and handed the keys over to your teen, you can let them go with confidence because of the Forward Collision Alert and Lane Departure Warning to help keep them driving safely. So, from the highway to the back-up camera, you can feel more safe behind the wheel.
The Colorado saves you money and gives you confidence with best in class gas mileage and outstanding safety features. These things continue with Chevrolet's complete care. First, your new Colorado comes with a 3 year/36,000 mile bumper to bumper warranty and a 5 year/60,000 mile powertrain warranty. This should give you confidence that everything is going to run smoothly. To save you even more money, Chevrolet's Complete Care, which extends either 24 months or 24,000 miles, covers your scheduled maintenance including two oil and filter changes and tire rotations. You can't get much better than that.

Colorado ZR2
The 2017 Chevrolet Colorado ZR2 is the most capable mid-size truck. The Off-Road mode adjusts engine calibration, transmission timing, and traction to get you through the tough obstacles. The two engine options give you the choice between two best in class options. The 3.6L V6 has best in class horsepower while the 2.8L Turbo Diesel has best in class torque. The ZR2 also has rear and front locking differentials to give you the most maneuverability possible.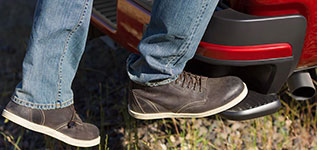 Bumper Step
This convenient step built into the bumper makes bed access easy without opening the tailgate.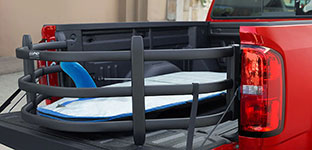 Bed Extender
The available bed extender gives you a little extra bed length while still providing the containment of the tailgate.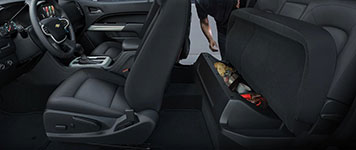 Under Seat Storage
Back seat storage makes full use of space, giving you some of the benefits of a traditional trunk.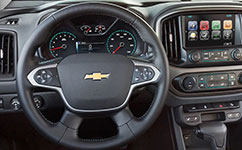 Steering Wheel Controls
Steering wheel controls let you keep your hands on the wheel while giving you full access to the tools you need.
Conclusion
If you are looking for the capability of a truck for towing or off-roading without giving up gas mileage, or spending more than necessary, then a midsize truck is for you. If you want the midsize truck that has best in class mileage, torque, horsepower, and all over connectability, then the 2017 Chevrolet Colorado is the obvious choice.