The 2017 Buick LaCrosse is more than just another family-friendly sedan – it's a luxury automobile for tech-savvy drivers. Newly redesigned for the 2017 model year, the LaCrosse supplies all the smooth sophistication you'd expect from the most upscale sedans on the road.
2017 Buick LaCrosse
For tall families and frequent road-trippers, the 2017 Buick LaCrosse provides Goldilocks-level passenger space–just right. Your growing family has all the head and leg room they need for a comfortable trip, whether they're sitting up front or in back. On weekend rides to new and exciting locales, passengers can surf the Web on their devices without bumping elbows. Best of all, the LaCrosse's plush seating balances soft comfort with long-term support, which feels great during your highway commutes.
The LaCrosse lets you stay connected safely – without ever looking away from traffic. All models come with the IntelliLink infotainment system, which includes Apple CarPlay and Android Auto connectivity. It displays smartphone apps on the LaCrosse central touchscreen, so you don't have to worry about looking down at your phone. You can also use voice controls to do everything from send text messages to reroute the navigation system.
When you're traveling over broken pavement, you might not even notice. That's how good the LaCrosse is at smoothing over bumps in the road. At highway speeds, the LaCrosse cabin remains impressively silent, so you never need to raise your voice to have a conversation with someone in the backseat. The LaCrosse power train responds swiftly to your inputs, which means highway merging is a breeze. In spite of its speed, this upscale sedan makes the most of what you spend at the pump. It earns up to 21 city/31 highway mpg. The engine stop-start system shuts the engine off when you're stopped in traffic, helping you save even more money on fuel.
The 2017 Buick LaCrosse puts your safety first. In government crash tests, it earned a perfect five-star rating for overall protection. The Insurance Institute for Highway Safety gave the LaCrosse its top score of "Good" in every single crash test. The IIHS even gave the front crash prevention system a rare score of "Superior." This technology can sense an oncoming collision and automatically apply the brakes to mitigate damages. It can even detect pedestrians, a feature that comes in handy when you're traveling busy streets after hours.

LaCrosse Premium
Available in both front and all wheel drive options, the Premium takes the already luxurious LaCrosse to a new level of upscale comfort. Driver and front passenger seats offer lumbar support with massage, while the steering wheel is heated to starve off the chill of the coldest winter mornings. The Premium comes stocked with the best of Buick's safety features, including forward collision alert, lane-keep assist with lane departure warning, side blind zone alert and lane change alert, and rear cross traffic alert.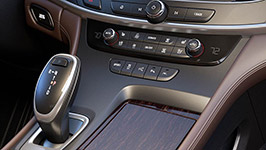 Streamline Center Console Design
Beautifully streamlined center console offers both additional storage space and extra room in the cabin.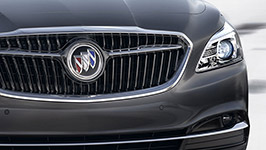 Upscale Styling
A contemporary twist on exterior styling, the new grill and tri-colored insignia gives the LaCrosse the look a luxury brand would covet.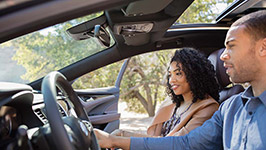 Panoramic Moonroof
At the press of a button, a panoramic moonroof creates a wide-open view of the sky.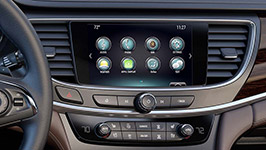 Buick Intellilink
The 8-inch screen offers both a sleek design and the option to connect your already smart phone to your smart car, which offers both Apple CarPlay and Android Auto to help you text, call, and access your favorite apps while keeping your eye on the road.
Conclusion
For a smooth, sumptuous commute to work and plenty of weekend-friendly passenger space, put the 2017 Buick LaCrosse at the top of your list. Even the base model is loaded with comfort and convenience features, so you need not spend a lot of extra money to enjoy a luxurious ride.