The 2016 Ford Super Duty F-250 and the Dodge Ram 2500 are two of the most impressive heavy-duty pickup trucks available. Both provide the necessary power for massive towing and hauling jobs. Inside, you'll enjoy modern luxuries and tech features. If you're trying to decide between the two models, check out our side-by-side comparison.
2016 Super Duty F-250 vs Dodge Ram 2500
Power and Performance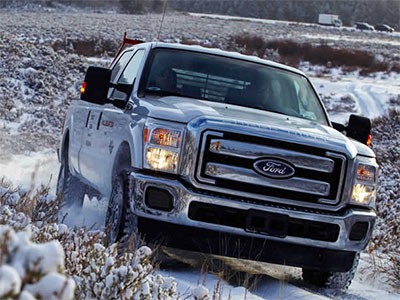 With the 2016 Ford Super Duty F-250, you can choose between two heavyweight engines. The gasoline-powered, 6.2-liter V8 engine generates 385 horsepower and 405 pound-feet of torque. The turbocharged, 6.7-liter diesel V8 boosts output to 440 horses and 860 pound-feet of torque. Use it to tow max loads of up to 16,000 pounds. The diesel engine also gives you the power to move payloads of up to 4,130 pounds.
The Dodge Ram 2500 is a close second. The base 5.7-liter HEMI V8 engine generates 383 horses and 400 pound-feet of torque. Boost performance with the 6.4-liter HEMI V8, which is rated for 410 horses and 429 pound-feet of torque. With this engine, the Ram 2500 can move max payloads of 3,990 pounds. Finally, the 6.7-liter turbodiesel engine offers 370 horses and 800 pound-feet of torque. Use it to increase towing capacity to 17,980 pounds.
Interior Comfort and Passenger Space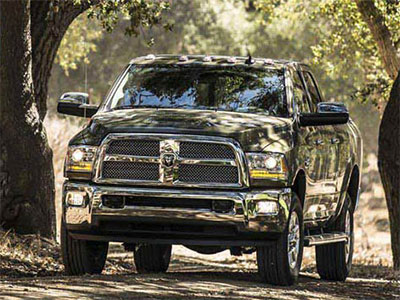 Inside, the Dodge Ram 2500 sports one of the nicest cabins in the segment. Depending on trim model, you'll enjoy soft-touch materials and tasteful details. The Mega Cab is especially spacious, with an adult-friendly backseat.
When it comes to interior comfort, the 2016 Ford Super Duty F-250 is tough to beat. Its spacious, high-quality interior offers long-term support. You can also sample from a long list of luxuries, including leather upholstery and heated seats. Both the SuperCab and crew cab deliver roomy back seats.
Driving Dynamics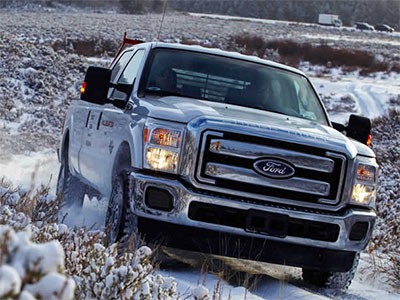 From behind the wheel, you'll be impressed with the 2016 Ford Super Duty F-250's refined handling and responsive steering. With four-wheel drive, it's easy to tackle slick surfaces or rugged trails. At highway speeds, the Super Duty cabin remains quiet, making a great setting for lengthy commutes.
On the road, the Dodge Ram 2500 makes moving heavy loads look easy. No matter which engine you choose, you can expect solid performance. The turbodiesel engine is especially impressive, making it the perfect pick for drivers with heavyweight requirements.
Safety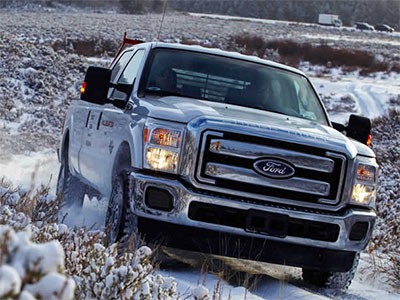 The 2016 Ford Super Duty F-250 is our pick for safety. It comes standard with a wide variety of equipment, including hill start assist, which keeps the F-250 from rolling backward at stops. The SOS post-crash alert system can automatically dial 9-1-1 after a collision. Trailer sway control helps you maintain impressive authority over sizeable trailers.
The Dodge Ram 2500 is also big on passenger protection. The post-collision safety system automatically alerts emergency services. As with the Super Duty, the Ram 2500 comes with antilock brakes and traction and stability control for enhanced performance over difficult road conditions.
Learn More about the Ford Super Duty

Both the 2016 Ford Super Duty F-250 and the Dodge Ram 2500 trucks are designed to move impressive loads, but the Ford Super Duty has the overall edge. Choose between gasoline and diesel power for the capabilities you require. On the road, the F-250 is smooth and confident. Inside, you'll enjoy spacious seating and luxurious amenities. High-tech features maximize infotainment options as well as passenger protection. Come in and test drive the F-250 today!