The 2016 Chevrolet Corvette Stingray is a speedy, stylish roadster that delivers world-class performance, luxurious seating, and advanced safety systems. On the road, it doesn't get much better than the Stingray's tire-burning ride. Inside, high-end materials and comfy sport seats maintain passenger satisfaction during lengthy commutes and road trips. Modern infotainment options keep you connected on the go. High-tech safety features provide peace of mind as you drive full speed ahead. Come in and test drive a Chevrolet today!
2016 Chevrolet Corvette Stingray
On the road, the 2016 Chevrolet Corvette Stingray delivers nothing short of excellence. Its chassis and suspension are designed to make optimal use of the 2016 model's firmer structure. This added stiffness contributes to the Corvette's precisely tuned suspension and steering, which in turn creates a spry, responsive ride.
You'll enjoy an impressive range of driver-oriented technology. The Drive Mode Selector lets you choose between five settings for optimal performance in a variety of different settings. The Tour mode, for example, is great for everyday driving. Turn the Sport mode on when it's time to hit the racetrack. Eco mode offers optimal fuel economy. The Stingray's three configurable displays include a pair of 8-inch screens and a head-up display that projects vital information on the windshield.
The 2016 Chevrolet Corvette Stingray derives its power from a 6.2-liter V8 engine that produces 455 horsepower and 460 pound-feet of torque. Add the performance exhaust system to boost engine output to 460 horses and 465 pound-feet of torque. Driving enthusiasts will love the Stingray's seven-speed manual transmission, which gives you impressive control over your ride. For a smooth, comfortable ride, check out the eight-speed automatic transmission with paddle shifters. With the Z51 Performance Package and manual transmission, the Stingray shoots from zero to 60 mph in just 3.8 seconds. The automatic transmission improves speed slightly, with the Stingray reaching 60 mph in 3.7 seconds.
New for 2016 is an industry-first Performance Data Recorder, which uses a high-definition camera to record the driver's point of view through the windshield. The Recorder's self-contained telemetry recorder uses GPS to pinpoint your ride. Run the data through the Cosworth Toolbox software to learn how to better your overall driving performance.
The Corvette Stingray is big on modern safety. The standard OnStar system helps you out of unexpected jams with features like automatic crash notification and on-demand roadside assistance. The MyLink infotainment system integrates with your smartphone, allowing you to make hands-free calls and access apps via voice control. The turn-by-turn navigation system helps you get wherever you need to go without getting lost. OnStar Vehicle Diagnostics monitors the Stingray's performance, letting you know when it's time for service.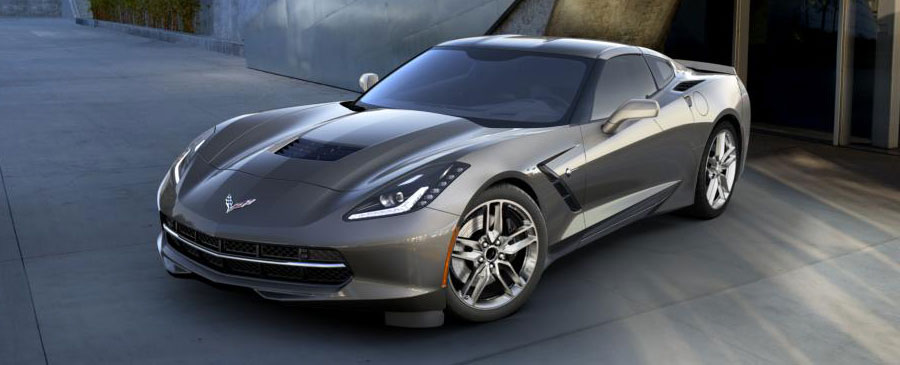 Corvette Stingray 3LT
All Corvette Stingrays are modern and luxurious, but the 3LT comes with the greatest amount of standard features. Heated and ventilated seats keep you comfortable in any weather – even with the top down. Upgraded leather upholstery sets a stylish tone. The premium 10-speaker Bose audio system with a bass box creates crystal clear sound to enhance your many infotainment options.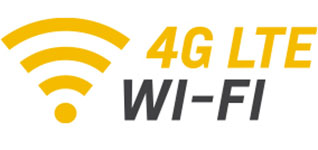 4G LTE Wi-Fi
Surf the Web on the go.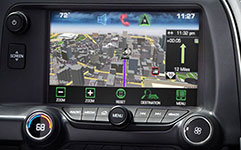 MyLink Infotainment
Alter music and media settings with voice and touch controls.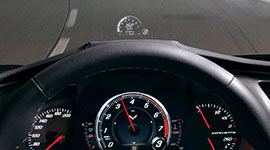 Head-Up Display
Configure the head-up display to project vital data on the windshield.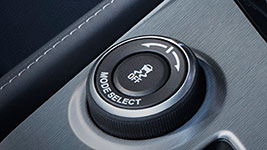 Drive Mode Selector
Choose from five settings to optimize the Stingray's performance.
Conclusion
The 2016 Chevrolet Corvette Stingray is fast, stylish, and safe. The modern powertrain balances world-class power with modern fuel economy. Choose from a variety of drive modes for optimal performance in a variety of settings. Inside, you'll enjoy luxurious seating and contemporary infotainment features. Modern safety equipment gives you peace of mind as you cruise at top speeds. Come in and test drive the Stingray today!