2016 Chevrolet Camaro
One of the 2016 Chevrolet Camaro's main attractions is under its hood. New for 2016 is a 2.0-liter four-cylinder that's specially designed to balance tire-burning power with fuel economy. It produces 275 horses and 295 pound-feet of torque, but also achieves an estimated 30 mpg on the highway. With the four-cylinder engine, the Camaro goes from zero to 60 in less than 6 seconds. For additional power, check out the revised 3.6-liter V6. Its 355 horses and 284 pound-feet of torque help you get up to speed in no time. The Camaro maxes out with a 6.2-liter V8 engine that makes 455 horses and 455 pound-feet of torque.
No matter which engine you prefer, you can choose between a six-speed manual or eight-speed automatic transmission with paddle shifters. The manual transmission is a favorite among traditional driving enthusiasts. The automatic also has its perks, delivering a smooth, confident ride. Its paddle shifters give you the ability to manually downshift for quick acceleration.
This new 2016 Chevrolet Camaro also offers a new chassis. Derived from that of the Cadillac CTS, it generates sporty handling and ride comfort. The new body design is both increasingly rigid and substantially lighter. The combination of these factors makes the Camaro swifter and more responsive than ever before. On the road, you can choose between four modes – snow/ice, tour, sport, and track – to further optimize performance. Selecting the correct drive mode tailors acceleration, steering, traction, and transmission settings to your current surroundings. As if all that weren't enough, you can add the Magnetic Ride Control active suspension for a supremely athletic ride.

Camaro SS
The 2016 Camaro is initially available as the LT and SS trim models. Both deliver an impressive array of comfort and convenience features. You'll enjoy spacious, supportive seating for long-term comfort during lengthy highway rides. Overall cabin design is both sporty and refined. High-tech infotainment features, including Bluetooth, keep you connected on the go. The MyLink touchscreen interface offers intuitive, easy-to-use menus. With customizable ambient lighting, the cabin floor basks in a cool, modern glow during nighttime rides. From the driver seat, a quick glance at the analog dials and configurable gauge cluster will give you vital information about your ride.

Wireless Charging Mat
Charge your smartphone on the go.

Sleek Cockpit
Enjoy space, comfort, and modern technology from behind the wheel.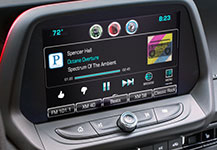 MyLink Infotainment
Your link to up-to-the-moment information and entertainment.

Muscular Exterior
The exterior design is both brand new and instantly recognizable.
Conclusion
The 2016 Chevrolet Camaro is the most popular muscle car on the road today, and it's easy to see why. This new redesign creates the line's best performance yet, with athletic handling and impressive ride comfort. The engine lineup gives you the power you require for the speed you crave. Inside, the cabin offers substantial comfort and support. Modern convenience features keep you connected on the go. Come in and test drive the Camaro today!