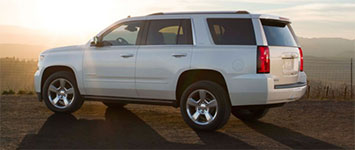 The modern used Chevrolet Tahoe SUV has all the right moves. After a major redesign in 2015, the Tahoe is better than ever. Inside, it offers room for up to nine passengers, making it one of the best picks for big families on the road today. It's also a great option for outdoor adventurers, because, with four-wheel drive, the Tahoe glides over rugged terrain. Under the hood, a 5.3-liter V8 engine generates 355 horsepower for a swift, smooth ride. Properly equipped, the Tahoe can tow max loads of 8,600 pounds.
The modern used Chevrolet Tahoe cabin treats you to more than just three spacious rows of seating. With the heated and ventilated front seats, you can brave any weather in complete comfort. The rearview camera makes backing up a snap, even with a sizeable trailer attached. High-tech safety gear, including forward collision alert, warns you of nearby danger. The rear entertainment system keeps young passengers content for hours on end.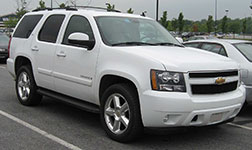 When you're shopping the used market, the third-generation Tahoe makes an excellent option. These models deliver everything from generous passenger comfort to superb performance. Like the Tahoes that came before it, this one proved highly maneuverable, escorting passengers around tight parking lots and city grids with ease. If you plan to hit rugged terrain, look for models with four-wheel drive and other off-road-friendly features.
Inside, these SUVs weren't just roomy – they offered an upscale experience. High-end features, like the navigation and premium audio systems, could've been found in a luxury SUV. Beginning in 2010, the Tahoe offered a USB port, making it easy to charge devices from the road. The third-generation Tahoe also made passenger protection a major priority. The OnStar telematics system boosted peace of mind, thanks to features like turn-by-turn navigation and on-demand roadside assistance.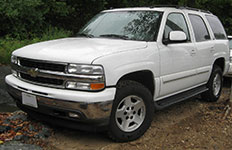 In its heyday, the second-generation Tahoe was the best SUV on the road. This model was known for its excellent maneuverability and V8 power. Shoppers could choose between two V8 engines, the most powerful of which was a 5.3-liter V8 that produced 295 horsepower. The Tahoe could also be had with four-wheel drive for premium performance on the trail. If you're looking for an off-road-ready Tahoe, check out the Z71 model. In 2003, Chevrolet introduced an optional stability control system to enhance driver authority over difficult road conditions.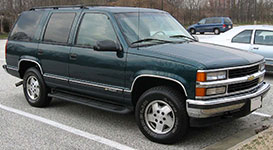 The original Tahoe looked a bit different than it does today. Shoppers could choose between two- and four-door models. Two-door models used a unique engine – a 180-horsepower turbodiesel V8. Other Tahoes derived their power from a 5.7-liter V8 engine that produced 255 horsepower. Inside, there was plenty of room for up to six passengers. In addition to being roomy, the cargo hold offered major space for golf clubs and road trip luggage.